Kabul's Illegal Car Racket Involves Top Officials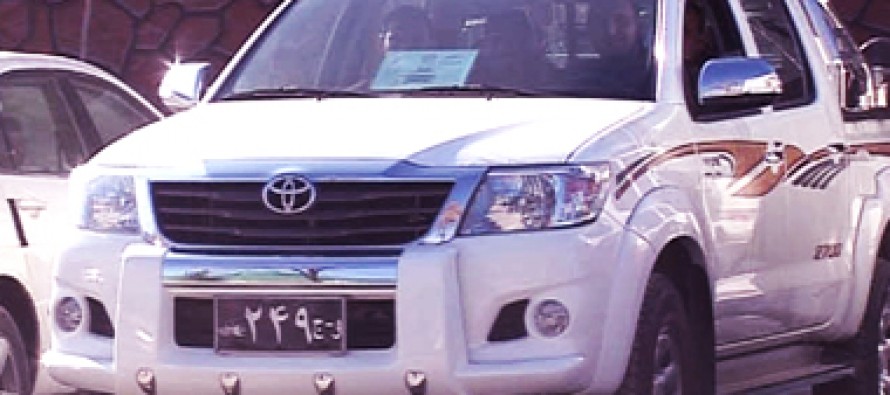 Tolo News-It is well known that throughout the Afghan capital city of Kabul there are many vehicles without legal license plates.
What is lesser known is that some of these vehicles belong to the country's top officials, especially representatives in the two houses of the National Assembly.
According to Kabul Traffic Department, having no number plates or illegal plates is a crime. Furthermore, not paying the vehicle tax – which is the reality for most of these cars – is also a crime. But that hasn't stopped most government officials.
Kabul Traffic Department says that only 10 cars belonging to members of the administrative boards of the two houses are authorised to carry initials on their number plates to represent their standing:
"W.J." for the Parliament (Wolesi Jirga) and "M.J." for the Senate (Mishrano Jirga). However, many more government cars are sporting the initials.
"We have only allowed the cars of 10 members of the administrative board of the National Assembly which travel around the city by numbers starting with W.J. and M.J. The rest which have such number plates are illegal," says Assadullah, Kabul Traffic chief.
The Ministry of Finance says that those who drive cars with fake number plates or no number plates at all are usually smugglers, and it is a criminal offence.
"The cars which travel in the city with fake documents are those not paying their taxes, and are called the smugglers' cars. This is considered a crime," said Najibullah Manalai, Media Advisor at the Ministry of Finance.
One MP says he knows of colleagues who buy the unregistered cars because of their cheap prices.
"You know that internationals are leaving the country and they sell their cars at very low prices. MPs will buy these cars for a little price, and they use these cars for personal use – cars that have not gone through the customs process and have no number plate," Bashar Tayanj says.
Despite unregistered, un-plated cars being linked to more crimes such as robbery and kidnapping, usually the cars are not stopped by police at checkpoints and so the practice continues.
"How could those who do not believe in laws enforce the [vehicle] laws on themselves? You know that there are drug smugglers, weapon smugglers, and human smugglers [using these cars] as well as warlords who do not believe in the law at all," says Senator Belqais Roshan.
MP Fatima Aziz says the use of illegal cars by government representatives and the failure of officials to register their cars are serious concerns.
"If someone considers themselves a representative of the people, why would they hide in tinted-window cars with no number plates?" She says.
The real question is why is such a recognisable offence, acknowledged by the Kabul Traffic Department and the Ministry of Finance, being completely ignored by law enforcers?
---
---
Related Articles
A number of Samangan residents have expressed their deep concerns about unemployment and lack of job opportunities in the province
The Minister of Urban Development and Housing Syed Sadat Mansoor Naderi announced Monday that a new housing project, funded by
Turkmenistan's Deputy Foreign Minister Haji Yuf Wafa in his visit to Jawzjan announced the reconstruction of the Aqina port road