Kaldar District Administration Building inaugurated in Balkh Province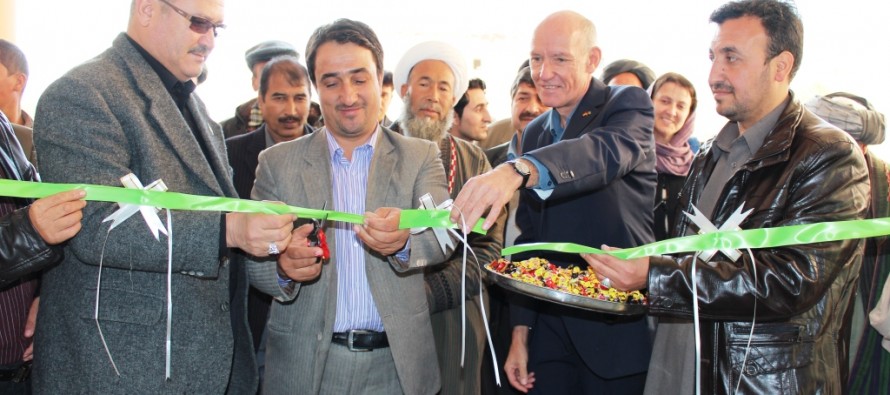 Kaldar's new district administration building was inaugurated in Balkh province to help local government provide better services for citizens, leading to improved relations.
The opening ceremony was attended Mohammad Alem Akbari, District Specialist of Balkh Provincial Governor Office, Mirwais Hotak, Kaldar District Governor, Eng. Esmatullah, Director of the Department of Water Networking and Irrigation in Balkh province, Abdul Rahman, Head of the District Development Assembly (DDA) in Kaldar, Mullah Abdul Rahim, Head of religious scholars in Kaldar district as well as other representatives from the district government of Kaldar, the provincial government of Balkh and representatives of the German Cooperation with Afghanistan.
The new administration building strengthens the profile of Kaldar District Government with greater capacities, both in terms of personnel skills and knowledge and in office space and equipment. The building houses the District Governor's Office and other key governmental units, including the legal court, departments of law, prosecution, rural development, agriculture, irrigation, education, finance, municipality, communication, and population registration office.
As many as 60 civil servants of Kaldar district administration are set to benefit directly from the improvements, which also include office equipment and trainings in computer use, English language courses and project development. The true beneficiaries, however, are the people of Kaldar district. With the new building and infrastructure, the administration is now in a better position to meet the needs of the people. Improved service delivery will contribute to better relations between citizens and local government.
This project was realized by the Kaldar District Governor Office based on a decision by the Provincial Development Committee (PDC) Balkh in April 2011. Implementation was supported by the Balkh Regional Capacity Development Fund (RCDF) and financed by the German Federal Ministry for Economic Cooperation and Development (BMZ). Overall project costs amounted to 25,697,285 AFN.
As part of German Cooperation with Afghanistan, the Deutsche Gesellschaft für Internationale Zusammenarbeit (GIZ) GmbH manages allocation of the RCDF. In six northern provinces in Afghan- istan, the RCDF supports the development priorities of the Afghan partners at the provincial and district level and also provides training programs for civil servants. With a broad range of activities, the RCDF aims to increase Afghan ownership of the development process, strengthen Afghan state institutions on the sub-national level and promote transparency and inclusiveness.
Kaldar is one of the 14 districts in the north of Balkh province, 130 km from Mazar City. Kaldar has a population of more than 23,000, mostly of Turkmen ethnicity. The district is divided into 14 villages, with 21 Community Development Councils (CDS) and 1 District Development Assembly (DDA).
---
---
Related Articles
Afghan Ministry of Economy is optimistic about the new economic policy that is expected to bring visible changes to the
The Afghanistan Research and Evaluation Unit (AREU) launched a research paper titled "On Borrowed Time: The limits of informal credit
According to Pajhwok Afghan News (PAN), as many as 13 construction sites has been blocked due to the existence of