Karzai in India to discuss bi-lateral relations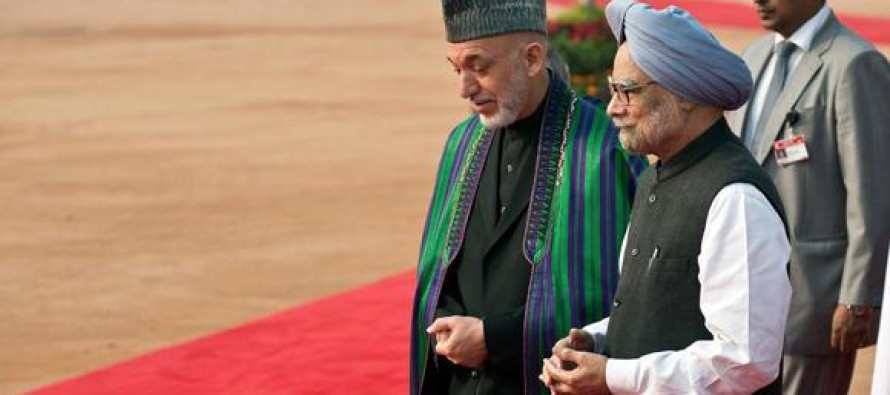 Afghan President Hamid Karzai is visiting India to discuss bilateral relations and cooperation between the two neighboring nations.
During his four day visit, Kazrai is scheduled to meet Prime Minister Manmohan Singh and to visit Pune where he is to attend a joint Business Interaction organized by Federation of Indian Chambers of Commerce and Industry (FFCI).
President Karzai will visit a number of Indian traders and research organizations officials and representatives of Indian and foreign journalists.
According to reports, Karzai is expected to renew request for lethal military aid from India.
In his last meeting with Singh, President Karzai sought greater military and civilian support for Afghanistan after the withdrawal of foreign forces.
India had promised to assist in "training, equipping and capacity-building programs for the Afghan National Security Forces" in a strategic partnership agreement signed in 2011.
This comes as Pentagon terminated contracts of badly-needed Mi-17s from a Russian firm, as the supplier was also providing the equipment to Syria–violating US sanctions directed at President Bashar al-Asad's regime.
India has so far agreed to supply two Cheetah light helicopters, which are expected to be delivered in May.
India is one of the closest allies of Afghanistan and has so far invested more than USD 2 billion in aid in various Afghan sectors.
---
---
Related Articles
Iran and world powers reached a historic accord over Tehran's nuclear program. The resolution authorizes the lifting of sanctions in
Afghanistan is on the cusp of strong economic growth due to a number of factors. A growing middle class has
Speaking during the cabinet meeting led by Afghan Hamid Karzai, Finance Minister Omer Zakhilwal said the US has vowed to