Korea contributes USD 9mn to improve Afghan community resilience against shocks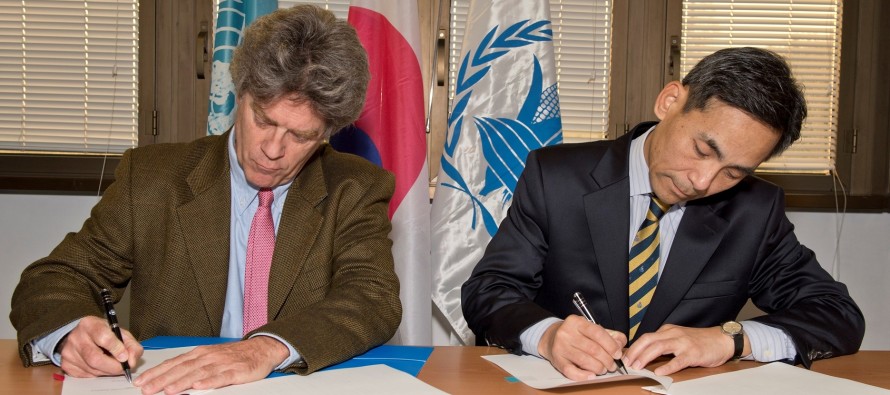 The Government of the Republic of Korea announced a contribution of US$ 9 million to the World Food Program (WFP) to support asset-creation projects to boost food security in Afghanistan. The donation was formalized in a signing ceremony in Rome attended by high-level representatives from the Government of Korea as well as senior WFP officials.
The contribution will be used over the next three years to restore community assets such as irrigation channels, floodwalls and feeder roads. In a country prone to recurring seasonal natural disasters such as drought and flood, these projects will help build food security as well as supporting the livelihoods of thousands of vulnerable Afghans in remote parts of the country.
"I would like to thank the Government of the Republic of Korea for this generous contribution, which comes at a timely moment as WFP plans to begin its new three-year program in January 2014. This contribution will enable WFP to better assist the most vulnerable Afghans in food insecure areas by building community resilience to prevent  and mitigate the impact of natural  disasters," said Claude Jibidar, WFP's Representative and Country Director for Afghanistan.
The Republic of Korea recently committed another US$ 13 million to support soybean production in Afghanistan through WFP's Purchase for Progress (P4P) initiative. This donation will allow WFP to implement projects to help farmers improve agricultural productivity, while at the same time working to reduce malnutrition.
---
---
Related Articles
The British government announced at the G7 Summit that it had pledged 75 million pounds to help the Afghan people.
The Japanese Government has responded to the urgent request from the Afghan government which faces its unprecedented financial constraint in
Dozens of young Afghan men have launched campaigns against Pakistani currency which is used in most transactions in eastern and