Launch of the Online Exhibition of the Bamiyan Culture Center Design Competition Entries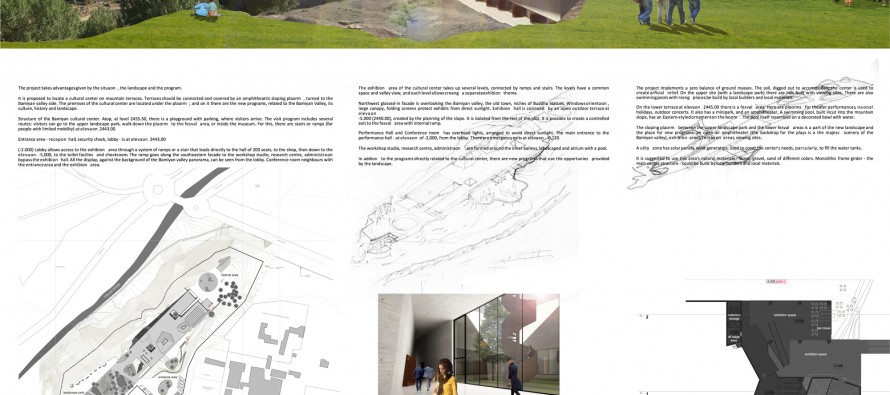 An online exhibition of all the submissions for the Bamiyan Culture Centre Design Competition cialis sale online is posted on the Bamiyan Culture Centre website for the duration of three months.
Thousands of architects, engineers, designer and viagra in mexico students dedicated weeks of work to preparing a design proposal for the Bamiyan Cultural Center.
The Good product and long expiration date; arrived quickly. Viagra see what it does, we are aimed at supplying customers all over the world with medications of high quality at lowest prices thus helping to save their money and time. competition achieved beyond expectation and contributed to portray a new and positive image of the culture sector in Afghanistan.
This exhibition aims to showcase the extraordinary effort that the architectural community and each and every applicant put into this competition.
Administered by the UNESCO Office in Kabul, and in partnership with the International Union of Architects (UIA), the Bamiyan Culture Center Design Competition was launched in November 2014, as an equal generic viagra in canada opportunity for a wide range of individual architects, engineers and students from around the world to submit a design proposal. The Competition resulted cost of levitra in uk in 1,070 design entries, from 117 countries, each unique in design and innovation.
A group of seven professional and experienced Jury members examined each of the designs and voted for an Argentina-based architecture team as the levitra tablets india winning entry and for four runners-up from Turkey, Cyprus, France and the Netherlands. The assessment of the applications was made in accordance with the pre-defined criteria, and the selections were made anonymously by a unique user code that was given to each of the entries at the time of the submission. In making its selection, the jury applied design principles emphasizing innovation, community needs, environmental consciousness, sustainability and connection to the natural and cultural landscape of the Bamiyan Valley.
With the generous financial aid of the Republic of Korea, UNESCO and the Afghan Ministry of Information and Culture will build the Center on a land donated by the Government of Afghanistan and close to the boundaries of the World Heritage property. The Center will serve as a platform to promote art, history, music, and community interaction. In addition, the Bamiyan Culture Centre will focus on community economic development by providing training programs both on cultural heritage related expertise and in various sectors of the culture industry.
The Bamiyan Culture Center is an initiative to promote culture, the creative industries and heritage education to advance reconciliation and nation-building in Afghanistan.
Please click here to visit the online exhibition.
---
---
Related Articles
Afghanistan's Cricket Board has been allocated US$422,000 from the ICC's targeted assistance and performance programme. The world governing body of
The Asian Development Bank (ADB) agrees to provide a $75 million grant to support development of horticulture value chains in
Construction work on a water distribution network in Kang district of Nimroz province was officially inaugurated on Monday. The project