Maintenance Cash Grant Project kicks off in Herat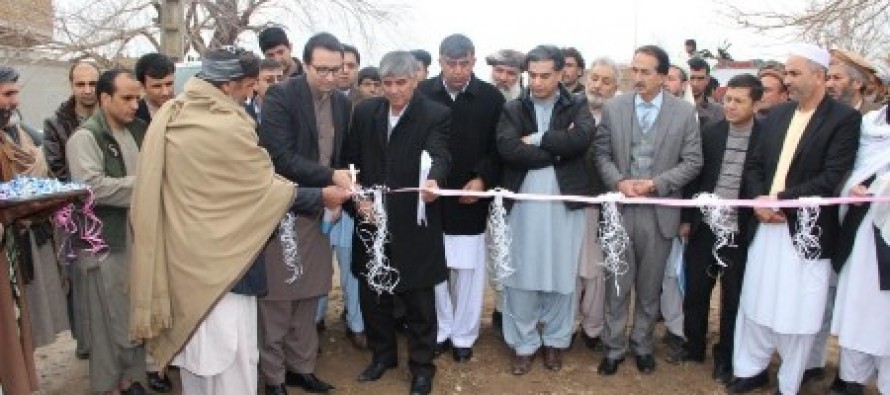 Ahmad Shaheer Shahriar, the Deputy Minister of Programs Minister of Rural Rehabilitation and Development (MRRD) formally inaugurated the Maintenance Cash Grant Project under the National Solidarity Program of the Ministry of Rural Rehabilitation and Development (MRRD/NSP) in Herat province on Tuesday.
In addition to MRRD Deputy Minister, Alhaj Hayatullah Fazil the NSP Deputy Executive Director, Eng. Muhammad Zaki Sanjida the NSP West Region Coordinator, Alhaj Aqa Muhammad Sediqi the Herat RRD Director, Eng. Muhammad Suhail Hasanzada the NSP Provincial Manager and a number of influential elders have participated in the gathering, conducted in Herat province.
Addressing the inaugural ceremony, the MRRD Deputy Minister praised the concerted efforts so far made by the Community Development Councils (CDCs) at community level.
"A sum of AFN 218,775,250 has been allocated for the MCG Project, initially designed to launch in Enjil, Karukh and Kuhsan districts of Herat province. Managed by 48 engineers and social organizers, the MCG Project will provide 24,948 individuals (3,743 professionals and 21,205 non-professionals) with employment opportunities", he added.
The launch of the MCG Project of the MRRD/NSP planned to operate under "National Employment Generation Program for Peace" in various provinces on the one hand ensures the maintenance and protection of projects already executed, while on the other hand, it facilitates the economic growth in the communities suffering from unemployment.
In continuation to the MCG Project inauguration ceremony, the MRRD Deputy Minister has also handed over 36 infrastructure projects, already completed through the MRRD/NSP in Enjil district of Herat province.
The projects completed at a cost of AFN 60,701,980 funded by the MRRD/NSP including 10% community contribution directly benefit 11,848 families in various communities of this district.
---
---
Related Articles
Kazakh President Nur Sultan Nazarbayev has pledged to stand for a stable, secure Afghanistan and to assist the war-ravaged nation
As many as 17 development projects are going to be implemented in Takhar province at an estimated cost of USD
World Bank Chief Jim Yong Kim, who took over the position at the World Bank last year, has set out