Maintenance Cash Grant Project starts in Laghman province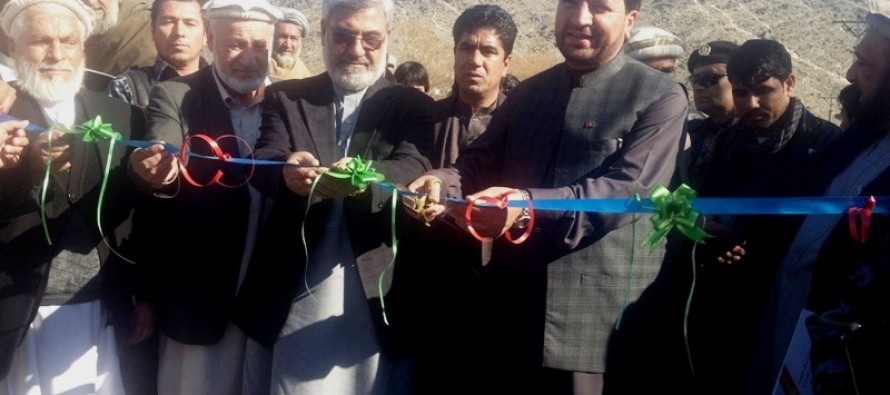 Eng. Nasir Ahmad Durrani, the Minister of Rural Rehabilitation and Development (MRRD) formally inaugurated the Maintenance Cash Grant Project (MCG) under the National Solidarity Program (NSP) of the ministry in Laghamn province on Tuesday.
The ceremony was attended by Laghman Governor Abdull Jabar Naimi, Laghman RRD Director Aminudin Baidar, Laghman NSP Provincial Manager Habib-u-Rahman Habib,, Nuristan Provincial Manager Mohammad Esa Wahda and a large number of influential elders and Community Development Council (CDC) heads.
"A sum of AFN 152,362,100 has been allocated for the MCG project, initially designed to launch in Qarghaee district and in a number of areas related to Mehtarlam the center of Laghman province. Managed by 30 engineers and social organizers, the MCG project will cover 293 communities in the localities mentioned. The commencement of the project will provide 461,475 individuals -equivalent to 69,222 working days for professionals and 392,253 working days for non-professionals- with employment opportunities", said Minister Durrani.
In continuation to the gathering, the MRRD Minister has handed over a number of infrastructure projects, already completed through the MRRD/NSP in Laghman province.
The projects benefitting 6,397 families in various communities of Alishang, Alingar, Qarghaee and Badpakh districts have been completed at a sum of AFG 47,836,000, financed by the MRRD/NSP including 10% mandatory community contribution. The projects include the construction of 1,838 meters of irrigation canals, 2364 meters of protection walls, four water reservoirs, two community centers, a 3343-meter pathway, gravelling of 6,253 meters rural roads, a 6997-meter water supply network and excavation of 54 wells and underground canals.
Since its inception in Laghman province, the NSP has been able to execute 2,619 development projects in different sectors including transport, water and sanitation, irrigation, power, livelihoods, education, etc, and work on another 163 projects is currently in progress.
---
---
Related Articles
Alokozay Group of Companies, one of the leading Fast Moving Consumer Goods (FMCG) companies in the world, received 144 acres
The Afghanistan Chamber of Commerce and Industries (ACCI) said the private sector continues to face challenges despite pledges of support
In an exclusive interview with BBC News, Afghan Finance Minister Hazrat Omar Zakhilwal warned of a possible economic crisis to