Mapping risks in Badakhshan to help communities at risk of natural disasters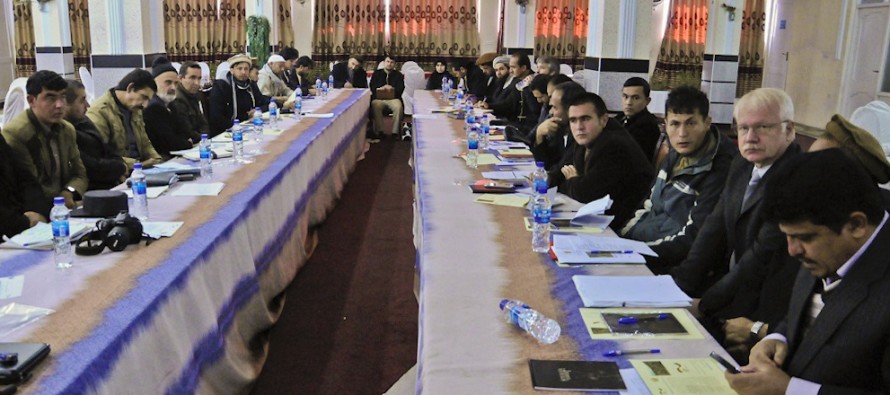 Faizabad, Badakhshan's Provincial Governor's Office (PGO) presented its risk mapping for natural disasters in all of the province's 28 districts. The maps show where communities are most at risk of flooding, avalanches and landslides in Badakhshan. With AFN 72 million in funding from the German government, the risk mapping project also include plans for prevention measures in the local communities.
The mapping was drawn up by international consultants working together with the PGO, experts from the Afghanistan National Disaster Management Authority (ANDMA) and the Department of Rural Rehabilitation and Development (DRRD). The measures are part of the provincial authorities' plan for natural disaster prevention in Badakhshan, launched in reaction to this year's landslide in Ab-e-Barik.
At the presentation in the province's capital Faizabad, Dr. Gull Mohammad Bidar, Badakhshan's Deputy Provincial Governor, said, "Following the tragic landslide in Ab-e-Barik in Argo district, the Provincial Governor's Office decided to embark on prevention measures. We can support our communities with targeted training and small infrastructure measures to foster their resilience towards natural disasters."
Speaking on behalf of the German Federal Ministry for Economic Cooperation and Development (BMZ), Dr Frank Pohl, BMZ Development Commissioner, added, "As reliable partners for our Afghan counterparts, Germany is committed to supporting the Provincial Governor's Office with financial and technical support for these prevention measures and we hope that this project can prevent tragedies by natural disasters in the future."
Provincial authorities, like the district governors' offices and other local government bodies and line departments, will now work with closely with the PGO, ANDMA and DRRD to help introduce better disaster prevention measures. The first phases of the prevention plan will specifically focus on the pilot districts of Kofab, Khowhan, Shahri Buzurg and Shukai.
The "Badakhshan Natural Disaster Prevention" (BNDP) project, which is implemented by the Deutsche Gesellschaft für Internationale Zusammenarbeit (GIZ) GmbH, supports the PGO, ANDMA and DRRD in conducting demand-oriented risk analyses for endangered communities in four selected districts. The analyses build on existing risk maps from 2013, which were developed with German support, and will be supplemented on the ground by expert analyses of the physical threats caused by natural events and analyses of social vulnerability.
On the basis of the results of these analyses, the project will advise the responsible Community Development Councils on planning and putting suitable measures into action for disaster prevention. The project will be implemented with technical and financial support from international donations until the end of 2015.
---
---
Related Articles
The Telegraph-The British military took on one of the biggest operations of the war in Afghanistan to redeem itself after
A newly constructed secondary school in Rustaq district, Takhar, officially opened its doors for up to 313 students on Sunday.
Foreign Ministers from about 40 Islamic countries are invited to visit Ghazni. In the wake of criticism of the deteriorating