Media's Role in Promoting Agricultural Development in Afghanistan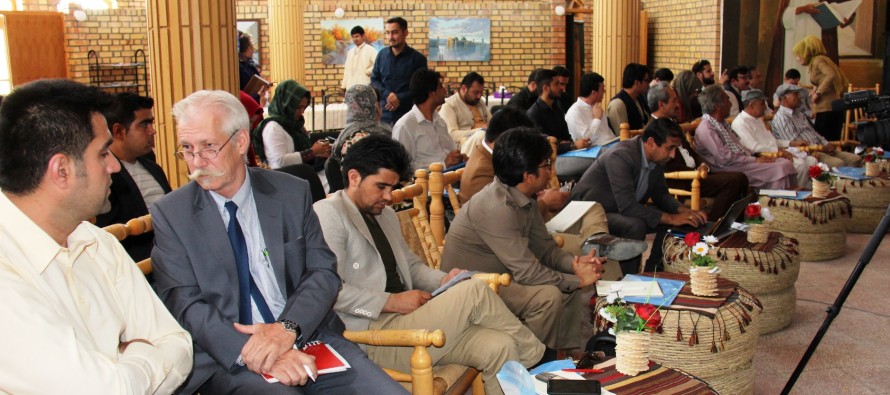 In a media meeting in  Mazar-e Sharif, four expert panellists and more than 50 journalists discussed how the media could play a role in promoting agricultural development in Afghanistan.
The Afghan-German Cooperation hosted this event, implemented by Mediothek Afghanistan.
Balkh's Director of the Department of Agriculture, Irrigation and Livestock (DAIL), Zabihullah Zobin, said: "Agriculture is the key to economic development with around 15 million people in Afghanistan depending on the sector for their livelihood. In addition, most of Afghanistan's export-based income is obtained from agricultural products."
The panelists concluded that Afghan media could best contribute to agricultural development by establishing a connection between farmers and government officials to ensure an information flow. Further, media could help transferring up-to-date knowledge to farmers and promote the sector by reporting on success stories.
Balkh's Director of Agricultural Cooperatives, Ghani Faqiryar, said: "Since 1954, Agricultural Cooperatives have also been supporting farmers in various aspects. Currently, Balkh Cooperatives works in different fields including dairy, processing edible oil and fruits."
The Deputy Program Director of the Sustainable Economic Development Promotion (SEDEP), Robert Glass, elaborated on media's importance: "Communication is an important part of our work. It removes certain obstacles. We facilitate dialogues between stakeholders, including businesspersons, authorities and farmers. We have also conducted successful awareness campaigns, broadcasting audio spots via radio stations in Northern Afghanistan."
Meanwhile, Director of Nai – Supporting Open Media in Mazar-e Sharif, Mobina Sai, said that media could contribute to people's mobilization for development.
"Even if illiterate, traditional media can support farmers by broadcasting educational programs on agriculture," added Ms. Sai.
Regarding a question about how to access loans, Glass from the Afghan-German Cooperation said: "With the media's support, a link between cooperatives and farmers could be established. This way, farmers could be informed about opportunities, including where to get loans. For example, farmers can apply for agricultural loans at the First Micro Finance Bank Afghanistan."
Media Meetings are a series of regular events organized by the Afghan-German Cooperation in cooperation with journalist associations. These meetings bring together experts from the public sector, civil society, development organizations and media to discuss important development issues. So far, 16 meetings took place in Kabul, Mazar-e Sharif, Herat and Feyzabad. On average, about 80 media representatives participate in each session.
---
Related Articles
On May 16th, the Ministry of Telecommunications and Information Technology celebrated the the World Telecom Day in Kabul. The telecommunications
The 21st Summit of Turkmenistan-Afghanistan-Pakistan-India (TAPI) gas pipeline will be hosted in Afghanistan's capital city, Kabul, within two months. The
Ministry of Agriculture and Livestock announced that the international community has allocated USD 17 million for the reintegration process in