Military Uniforms are still sold in Kabul Bazaars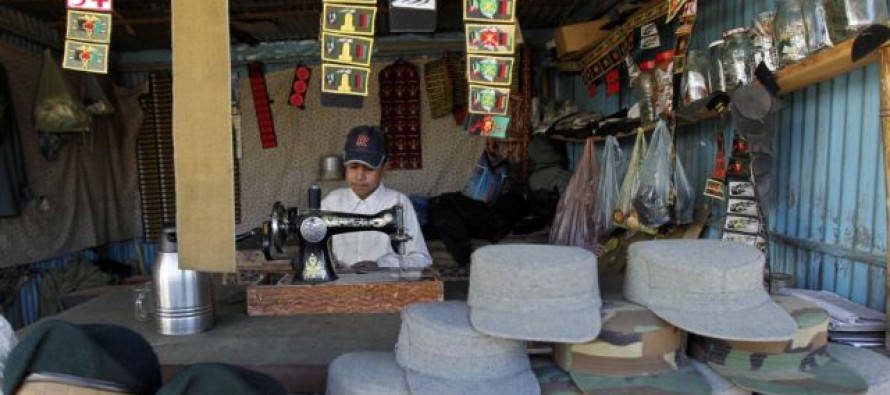 Pul-e-Khishti is the region where one can still purchase military uniforms and shoes.
The rows of shops, filled with military uniforms, shoes and badges, on each side of the region catch your attention.
The shopkeepers are well aware that it is an illegal business, but they choose to do so for the well-being of their family.
Some soldiers come to this place to purchase their uniforms.
When asked why, they responded:
"The suits provided by the military academy are not made of a good material. You can find a better quality cloth here to make the uniform out of."
Some sources say that some military officials sell their uniforms in this market.
Deputy Defense Minister General Dawlat Waziri said that Afghan National Soldiers are not allowed to do so.
"In this regard, specific instructions and guidance are available from the Minister and Chief of Army. No one is permitted to sell military uniforms, gears and other things related to the army in the bazaar or make it available to anyone."
Deputy Police Chief General Daud Amin said measures would soon be undertaken to halt the business of military uniforms in Pul-e-Khishti.
Availability of Afghan National Army uniforms out in the bazaar makes it easier for insurgents to access them.
Afghanistan has recently witnessed several uniformed suicide bombers.
On April 16, 2011 a suicide bomber wearing an Afghan military uniform killed five foreign soldiers at a military base in eastern Afghanistan.
In a separate incidence last year, a suicide attacker was able to get inside the Ministry of Defense and almost make it to the Minister's office.
Kabul Police has prohibited selling and purchasing of military uniforms in the market since last year.
---
---
Related Articles
Around 300 factories in Herat have recently gone bankrupt or are headed for bankruptcy of around 400 which used to
Indian Consular General in Herat, Amarjit Singh, said the Indian government has vowed to complete the long-awaited Salma Dam project
The Ministry of Commerce and Industries plans to sign an agreement with Russia, in a bid to tackle soaring prices