Mini-Pentagon worth USD 160mn rises in Afghanistan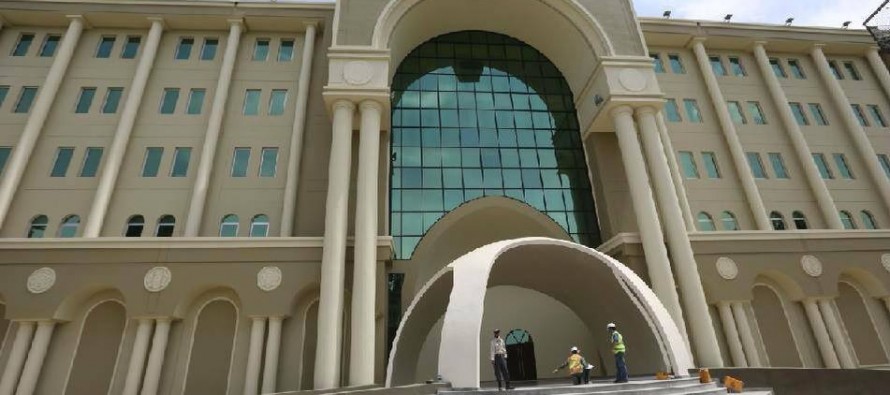 A white marble building, known as the "mini-Pentagon", worth USD 160mn is built in the center of capital Kabul with US funds for the Afghan Defense Ministry.
The new facility is going to be handed over to the Afghan government by the end of this month.
The design for the 5-story building was chosen from entries in a nationwide competition open to architecture students.
Completed after 4 years, the building with a 34-meter dome will accommodate 2,500 employees. It consists of barracks for officers and enlisted men, an ancillary garrison as well as a wastewater treatment facility and a power plant. The compound also includes gyms, clinics and military courtrooms.
In addition to the cost of the structure, the 70 tons of furniture and information technology facilities used in the compound have added another USD 33.3mn and USD 12mn, respectively, to the US taxpayer-funded bill.
"We now have the ability to be able to see the progress and the potential of everything that the security forces in Afghanistan can do," Fox News quotes U.S. Maj. Gen. Todd Semonite, the American commander overseeing the transition, calling it "a new beginning for the Ministry of Defense."
This comes as concerns about Afghanistan's security deepens and the nation misses a defense minister as yet.
---
---
Related Articles
The Asian Development Bank (ADB) in its Asian Development Outlook (ADO) 2018 report has projected Afghanistan's economic growth at 2.5%
Agriculture officials in Herat reported that sericulture has witnessed an unprecedented growth. Faqir Ahmad Bayangar, Head of the agriculture department
Tolo News- The Afghan government has dismissed the findings of international research consultant Gallup that only three percent of Afghan