Minister of Energy & Water sees huge potential for green energy in Afghanistan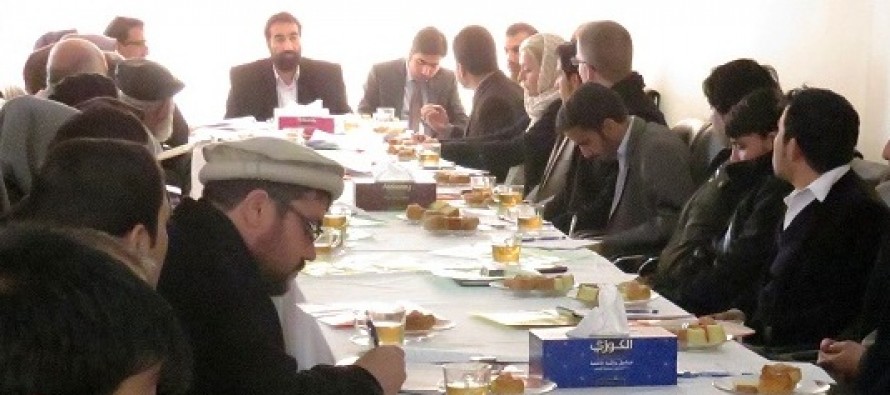 Afghan Energy and Water Minister Mohammad Aref Noorzai said his ministry was working to improve sustainable energy services for the country.
A workshop was held from 11 to 13 February in Kabul to promote decentralization of the Ministry's renewable energy structure with the aim of improving sustainable energy services.
Speaking at the opening of the workshop, Noorzai said, "We have huge potential for renewable energies in Afghanistan and we are very happy to have a renewable energy unit in our ministry. We want to work further towards strengthening the presence of the renewable energy sector in the provinces."
The three-day workshop brought together the five zone offices, established by the ministry in August  to promote renewable energy in Afghanistan's provinces. The aim of the workshop was to fine-tune the institutional setup of the offices, communication procedures with Kabul and to specify how the offices can deliver better services to the population. Tasks also included drafting recommendations for revised tariff structures and developing buy-in models for the private sector.
Since they were established, the offices have played a vital role in pushing for renewable energy supply in Afghanistan. Data collected on energy potential, for example, is now used for national and provincial electrification planning. The offices have also contributed to improving government support for power plants in terms of sustainable operation and maintenance of schemes. Afghanistan's central region is covered by the Kabul office while the north-eastern zone office is based in Kunduz. The office for the northern zone office is in Mazar-e-Sharif, the western zone office in Herat and the southern zone office in Helmand. The northern zone office also incorporates a unit of technicians to monitor both technical performance of existing power plants as well as their financial performance.
As part of Germany's cooperation with Afghanistan, the Deutsche Gesellschaft fr Internationale Zusammenarbeit (GIZ) GmbH has been helping the Ministry of Energy and Water promote renewable energy in Afghanistan since 2003. Financed by the German Ministry for Economic Cooperation and Development (BMZ), GIZ provides policy advisory services and technical support for the ministry's institutional and organizational development as part of the cooperation scheme.
---
---
Related Articles
Economic Summit in New Delhi with regards to investment in Afghanistan was held among 500 foreign delegates and a number
The ratification of the Anti-Money Laundering Law has been postponed until next Monday as the Lower House of the Parliament
A maiden meeting of the Afghan-Indian Working Group was held in Kabul on Tuesday to confer on strengthening trade cooperation