Ministry of Economy Launches Monitoring & Reporting Database in Southern Afghanistan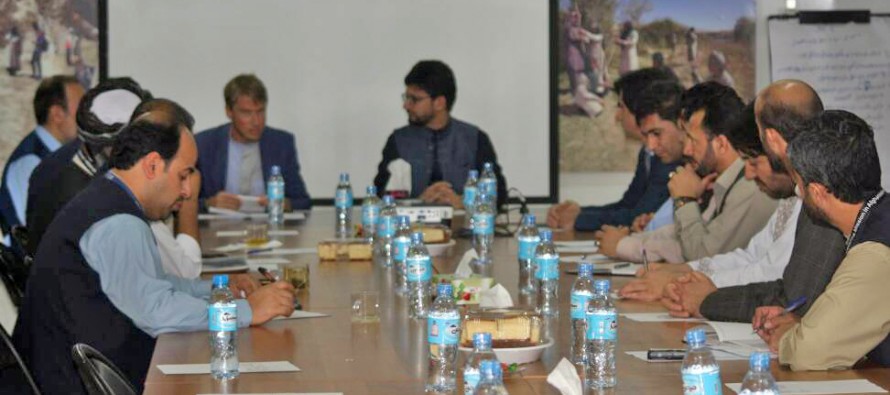 Afghan Ministry of Economy introduced a monitoring and reporting database to officials from the provinces of Kandahar, Helmand, Zabul and Urozgan on Wednesday.
In a two-day training, 15 government officials learned to use the database that provides information on development projects implemented in the respective provinces and monitors their progress.
Addressing the launch event, deputy minister for policy and technical affairs, Mohammad Ismail Rahimi said: "The new system will help us to store information in the MoEc. The centralized databases can generate progress reports on development projects, supporting and facilitating their implementation for all budget entities in the country."
Supported by the Afghan-German Cooperation, the Provincial Monitoring and Reporting System Database (PMRS) provides accurate, reliable and up-to-date information on development projects. Government officials, both on central and provincial level, can use the database for decision-making and policy-development. PMRS replaces a paper-based reporting system and increases transparency as well as accountability regarding the implementation of development projects.
The information in the database stems from quarterly monitoring reports prepared by the MoEc's provincial departments. In the past, it took about 15 days to receive such reports. In the future, they will be available in the database as soon as they are published.
The MoEc's technical team further conducted a two-day training for 15 officials and staff from the ministry's provincial departments of Kandahar, Helmand, Zabul and Urozgan. The participants learned how to use the database, report progress and where to find specific information.
A participant emphasised the database's advantages and said: "PMRS helps us to have an overview of all development projects in Kandahar. This information is very important for decision making in the Provincial Development Council."
The program Monitoring Evaluation and Communication in Afghanistan (MEC) is implemented by the Deutsche Gesellschaft für Internationale Zusammenarbeit (GIZ) GmbH on behalf of the German Ministry of Economic Cooperation and Development (BMZ). The program aims at supporting the Afghan government in strengthening monitoring and evaluation capacities. To achieve this objective, MEC assists the Afghan Ministry of Economy (MoEc) in implementing monitoring and reporting systems on central and provincial level. It further offers evaluation courses for the ministry's staff and supports the MoEc in conducting impact evaluations on national development projects to measure results, effectiveness and sustainability. This also increases transparency and accountability of development projects.
---
---
Related Articles
Japan has agreed to provide USD 538,009 for a demining project in Surobi District of Kabul. An agreement to that
Three experts on women empowerment and more than 60 journalists gathered at Feyzabad's women's centre to discuss the media's role
Afghanistan's renewable energy resource potential is estimated at over 300,000 megawatts, with hydropower currently being the main source of renewable