Ministry of Mines and Petroleum employees enhance their management skills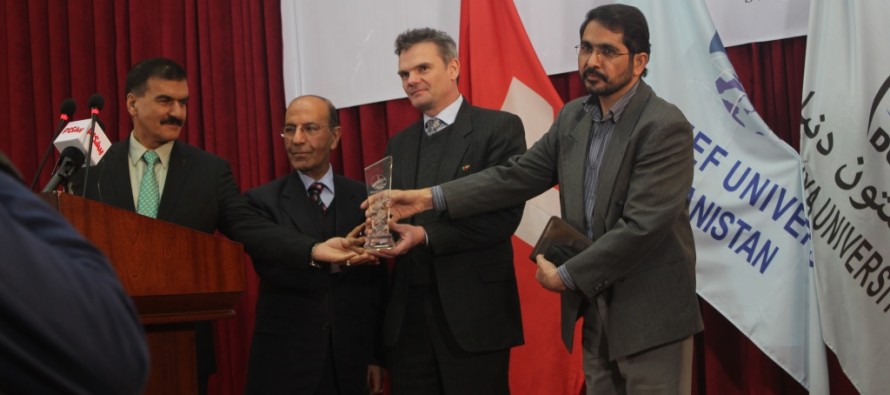 An eight-month management training was provided to 24 employees of the Ministry of Mines and Petroleum (MoMP).
The participants were able to enhance their administrative and organizational skills. These will help them to realize Afghanistan's development plan for the extractive sector more efficiently. In the long run it will have a positive impact on the ministry's ability to make better use of Afghanistan's natural resources.
The German government supported the 8 months graduate training program at a cost of AFN 6,000,000.
About six years ago, researchers found an abundance of mineral resources in Afghanistan, which created a stir around the globe. The country's deposits of copper, lithium, iron, rare earths, gold and cobalt would be sufficient to make Afghanistan one of the world's leading exporters of mineral resources. This is a big opportunity for the country, but at the same time it creates great responsibility for the government to manage it well. Citizens expect their leaders to tap the deposits and use the revenue for the sustainable development of the whole country.
However, the government faces the challenge that a multitude of mining policies in the extractive sector are in effect and need to be applied, and that concessions and land are sometimes poorly managed. In addition, there are still deficiencies when it comes to monitoring of activities in this lucrative industry. Addressing these shortcomings is a tremendous task that demands a lot of technical and managerial skills from MoMP's staff. For this reason, the German government supported an eight-month internationally accredited post-graduate management training course for 24 MoMP employees.
At Dunya University they received praxis-oriented training in leadership, budgeting, business plan development, as well as proposal and report writing. A training participant said, "Learning how to write proposals and their required structure and content puts us in a better position to evaluate proposals we receive from mining companies"
Mining inspectors who conduct field inspections of mining operations are now in a better position to check whether the appraised activities are in accordance with contracts and environmental standards. Furthermore, reports from field missions now provide more concise results and recommendations helping also for mission planning and budgeting. Extraction proposals and their business plans can now also be evaluated with greater scrutiny.  All in all, it will enable the 24 civil servants to better manage the ministry's programs.
Deputy Minister of Ministry of Mines and Petroleum (MOMP) Mohammad Ibrahim Azhar attended the certif-icate handover ceremony and underlined the need for such training to develop a more efficient and effective Af-ghan extractive sector. "It is very important for the MoMP to ensure reliable reporting based on facts to avoid misleading information being published"
The project "Promoting good governance in the extractive sector in Afghanistan' aims to improve the mining supervision performed be MoMP through its mining inspectorates in line with good governance criteria. The project therefore contributes to the Afghan National Development Strategy (ANDS) and to the National Extractive Industries Excellence Program (NEIEP). Interventions focus on strategic support to MoMP, capacity development of staff of MoMP and provincial line departments and the Afghan Extractive Industry Transparency Initiative (AEITI).
---
---
Related Articles
We have chosen Steven D. Levitt & Steven J. Dubner to be featured in our "Economist of the Month" section.
President Mohammad Ashraf Ghani presented Afghanistan in the Global Sustainable Transport Conference in Turkmen capital, Ashgabat. Held on November 26-27,
The United States is committed to the people of Afghanistan for the long term to ensure that economic development in