More security and privacy for Ghullam Sarwari Shahid Girls' High School in Takhar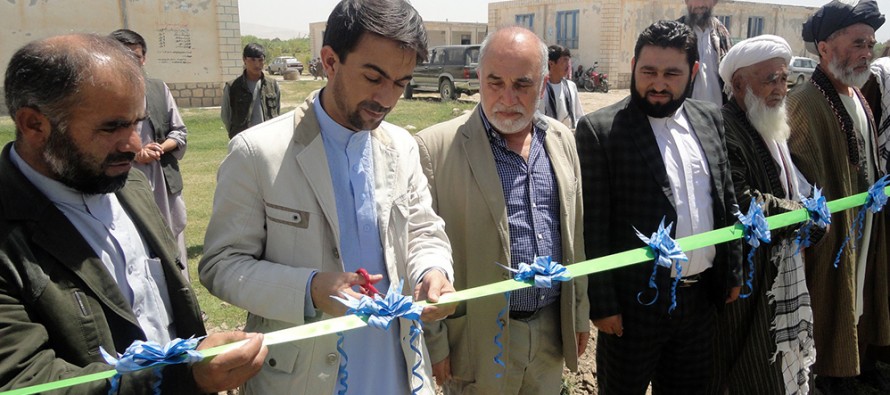 Construction work officially began for a new boundary wall at Ghullam Sarwari Shahid Girls' High School in Baharak district in the province of Takhar on Wednesday.
Currently, 800 young females attend the high school. The wall will make learning conditions more secure and sheltered for the pupils.
Further, the wall will give families the confidence that their daughters can attend school and receive a proper education in a safe environment. Better opportunities for education and literacy among young women in Baharak and beyond will also pave the way for greater economic sustainability in the future.
Speaking at the cornerstone ceremony on Wednesday morning, Mr. Sayed Qutbuddin Kamal, Deputy of Takhar Department of Education (DoE), emphasized that families in Baharak are grateful for the construction project. He said, "Construction of this boundary wall will give the people of this district the opportunity to receive services from the Education Department and develop trust in civil service delivery for closer collaboration between the DoE and the community in Baharak." He also promised that the project will fuflill the highest quality standards.
Mr. Sayed Qutbuddin Kamal was joined at the ceremony by representatives of the Provincial Council, members of the Provincial Development Committee and District Development Assembly, elders, religious leaders, around 50 citizens and members of Afghan-German Cooperation.
The project was initiated by the DoE in Takhar and the District Development Committee (DDC) in Baharak, with the Provincial Development Committee (PDC) making the final decision to construct the building. The DoE started implementation with support from the Regional Capacity Development Fund (RCDF) and AFN 3,311,210 in financing from Germany's German Federal Ministry for Economic Cooperation and Development (BMZ).
As part of the Afghan-German Cooperation programme, the RCDF is implemented by Deutsche Gesellschaft für Internationale Zusammenarbeit (GIZ) GmbH. The RCDF provides supports for its Afghan partners' development priorities both on a provincial and a district level in six of Afghanistan's Northern provinces. At the same time, the RCDF provides training and coaching programmes for civil servants. With its broad range of activities, the RCDF aims to increase Afghan ownership of the development process, strengthen Afghan state institutions on the sub-national level and promote transparency and inclusiveness.
---
---
Related Articles
President Hamid Karzai inaugurated the much-awaited 3G mobile technology project and GSM (Global System for Mobiles) services in Kabul. The
According to officials from the Afghan Coal Company, who won the contract for coal extraction and cement factory five years
In a report, the United Nations Development Program (UNDP) called for immediate action to support Afghan banks. In a three-page