MoU signed to enhance cooperation in mining sector between Afg, Iran, Germany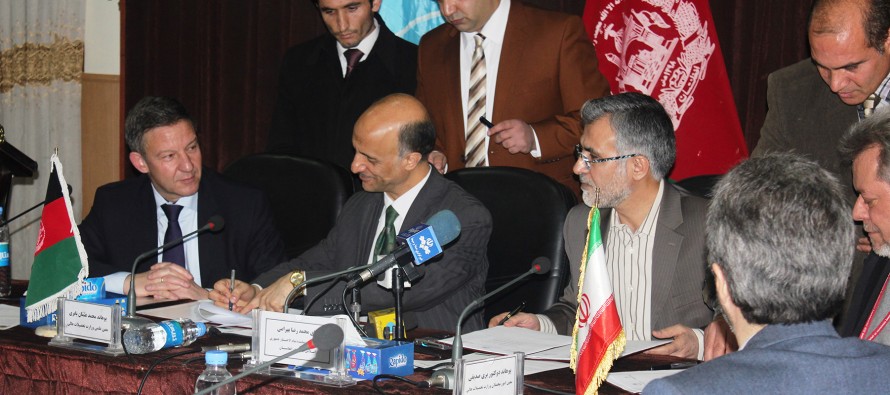 In order for Afghanistan to reap benefit of its vast natural resources well-trained mining professionals order cheap levitra and developing international networks are necessary to connect with peer researchers and teachers to exchange know-how. In addition, the security situation in Afghanistan makes it difficult to conduct generic levitra online mastercard accepted field exercises, research and practical training. This is why cooperation with other countries to gain experience is even more important.
A Memorandum of Understanding (MoU) to this effect was signed on cialis 20 mg Monday to pave the way for enhanced cooperation in the mining sector between Iran, Afghanistan and Germany.
The signatory parties were the Ministry of Science, Research and Technology (MSRT) of Iran, the Ministry of Higher Education (MoHE) of Afghanistan and the German funded programme Academic Mining Education in Afghanistan (AMEA).
With the signing of the MoU in the presence of the German Ambassador, Markus Potzel, and the initiated trilateral cooperation, an important step has been accomplished towards bringing Academic Mining Education in Afghanistan up to international standards and to enhance the quality of study programmes but also in strengthening relations between Afghanistan, Iran and Germany in the context of Mining Education.
Ambassador of the Islamic Republic of Iran Mohammad Reza Bahrami emphasized the importance of this collaboration: "We are happy to see the signing of this MoU that would enhance our trilateral academic cooperation on development of a mining education programme in Afghanistan with the help of Iranian universities. What is also important from our point of view is the positive approach that countries from the region and beyond are joining their capacities in one line for the benefit of Afghanistan, which would eventually be beneficial for the whole region at the same time. We are looking forward to relying on the same spirit of cooperation in other areas as well."
Mining professionals will be able to participate in a wide range of practical exercises. This will include a mapping course in March 2016 in collaboration with the Geological Survey of Iran, as well as a series of technical trainings in collaboration with Teheran University and Amir Kabir University. Last but not least, an internship programme with the Iranian public-private sector will give Afghan students the opportunity to conduct their field exercises in a safe environment that is geologically very similar to Afghanistan. In this regard, Markus Potzel also pointed out that "implementing a trilateral cooperation in education is a very stabilizing factor for the region".
AMEA, which is part of the Afghan-German Cooperation, is assisting partner universities, particularly Kabul Polytechnic University, Kabul University and Balkh University, in modernizing existing mining related study programmes in collaboration with German and Iranian partner institutions. Special attention is also paid to public administration, law and economic sciences. AMEA puts a lot of effort to promote practical training as well as national and international academic exchange through scholarships, networking and field exercises in-country as well as abroad. The activities help to enhance the skills of young Afghans and to improve employment prospects for them. This is a prerequisite to achieve the bigger goal of tapping the opportunities of the Afghan mining sector for the economic development of this country.
---
---
Related Articles
The Founder Institute, the world's premier idea-stage accelerator and startup launch program, has announced partnership between its Kabul Chapter and
Lead by Economy Minister Abdul Ahadi Arghandiwal, the High Committee of Clusters Coordination in their meeting on Monday conferred on
With a new short film, Germany's international broadcaster Deutsche Welle highlights what keeps autocrats up at night: a free and independent press.