MPs clash over summoning ministers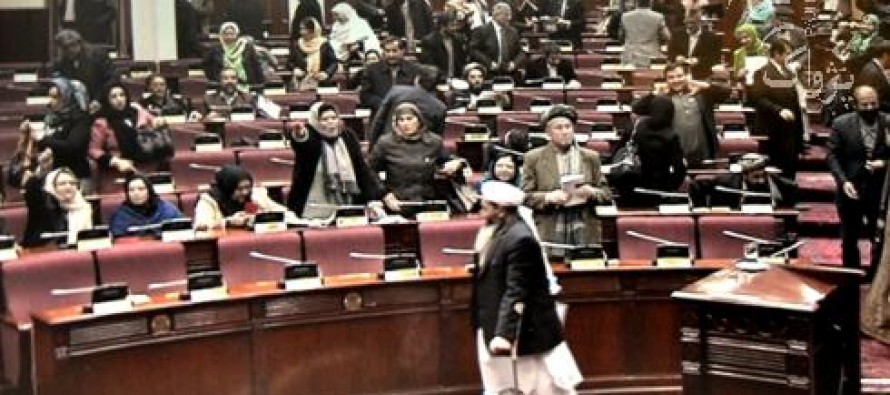 PAN-Two Wolesi Jirga members on Monday nearly came to blows on the issue of summoning a dozen ministers who spent less than half of their development funds in 2011.
The lower house had earlier voted overwhelmingly for summoning 11 ministers, but later started sparing over their decision during the past three weeks.
Ministries of defence, interior, commerce, economy, counter-narcotics, water and energy, education, urban development, mines, higher education and information failed to use the funds meant for uplift activities.
As heated arguments continued on the issue, a legislator from southeastern Khost province tried to pounce at his colleague Asadullah Sharifi from northern Balkh. However, other members intervened to set them apart.
A public representative from southern Kandahar province, Hamidzai Lalai, said 80 members of the assembly had signed papers for summoning the ministers. Some of the ministers, he alleged, were performing their duties based on regional and linguistic considerations.
"Lawmakers don't want to defend the ministers who have spent less than 50 percent of their budgets or those who harbor tribal or linguistic biases," he remarked.
Another MP from Badakhshan, Abdul Rauf, stressed parliamentarians should also be impartial in summoning the ministers. Some lawmakers Mohammad Ali Alizai, Shukria Barakzai and Humayun have been accused of supporting the ministers.
After a long debate, Speaker Abdul Rauf Ibrahimi ruled the ministers should be summoned, but the process had to be in accordance with the rules of business. He said prescribed forms should be filled for the purpose.
But Lalai said the MPs would not fill out the forms because the Administrative Board would sell them to the ministers. Lalai, Nazifa Zaki and Humayun tried to have the forms filled, but the move triggered an uproar.
As one member shouted "O, scoundrel", Humayun rushed toward Sharifi and tried to beat him but other MPs prevented them.
"The session has turned violent, so I prorogue it. But the ministers would not be summoned until the formers are filled," Ibrahimi concluded.
---
Related Articles
The Afghanistan Chamber of Commerce and Industries (ACCI) called the Afghan-India air cargo a "failed process" as at least 120
After passing four long years, as many as $11 million loan paid to Afghan Investment Company (AIC) by four banks—
On 27th March 2013, new irrigation infrastructure was inaugurated and put into use in Baghlan province. An estimated 13,800 people,