New department of justice building inaugurated in Kunduz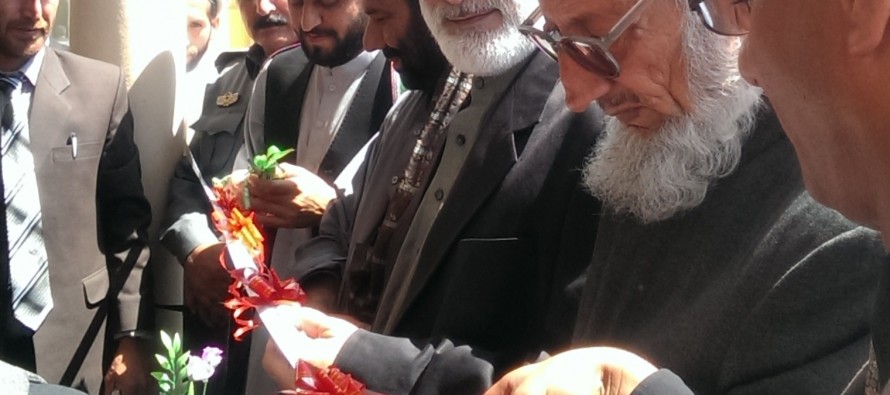 A new building for the Directorate of Justice was inaugurated in Kunduz city on Tuesday with support of the German and Dutch governments.
The new Department of Justice (DoJ) building is one of many new judicial buildings built in Kunduz province over the last year, including six new Huquq offices and six prosecution service offices that are already up and running, providing services to the population.
The new DoJ office will provide staff with the infrastructure they need to better serve the needs of the local population. The building is a visible sign that government institutions reach out to citizens and are accessible by those who seek justice.
As the office of the provincial representation of the Ministry of Justice, the new DoJ building will provide space for the departments of the DoJ to work efficiently and effectively. The building now houses the Department of State Cases, and the Department of Huquq, which deals with conflicts related to private law, such as land, inheritance or family disputes. Conflicts are mediated by the Huquq officer or referred to the courts, if necessary. The Huquq office for Kunduz city, based here at the new building, is now more accessible to the citizens of Kunduz city.
On behalf of the German Federal Ministry for Economic Cooperation and Development (BMZ), the Deutsche Gesellschaft für Internationale Zusammenarbeit (GIZ) GmbH has been working together with the Afghan Government in implementing the project "Promotion of the Rule of Law in Afghanistan" since 2003 and since 2008 in Kunduz.
In Kunduz Province, the Dutch Government has been co-funding these activities since 2011, and it is with those funds that this new building has been constructed.
The project supports the Ministry of Justice of Afghanistan in its efforts to ensure access to justice for all citizens. This is done through supporting better access to justice, as well as improving the professional capacity of justice sector staff. At the same time legal awareness of citizens is strengthened.
---
---
Related Articles
According to the Export Promotion Agency of Afghanistan (EPAA), Afghanistan witnessed a 95% increase in its saffron export. Saffron exports
The World Bank was recently entrusted by the Central Bank of Afghanistan to issue an international tender for the setting
The Ministry of Mines and Petroleum (MoMP) awarded a contract for sedimentary salt extraction in the Ghoryan district  with the