New education facilities in Takhar benefit almost 3,000 students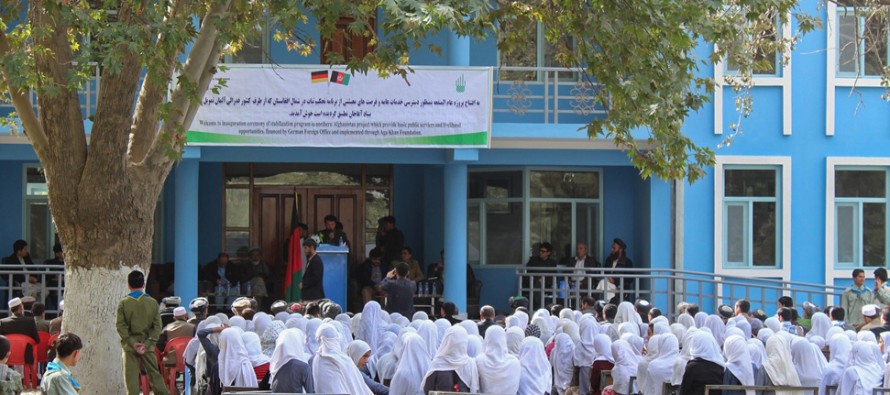 The Afghan-German Cooperation handed over two newly constructed school buildings and an additional boundary wall to the Department of Education (DoE) in Takhar.
The new education facilities will provide a better learning environment for almost 3,000 students, both girls and boys. The German government funded all constructions at a total cost of AFN 62.4 million via the Stabilization Program Northern Afghanistan (SPNA).
Speaking at the opening ceremony, the Director of Education of Takhar, Sayed Enayatullah Nawid, said: "Fifteen years ago, we didn't have basic education facilities. When I visited some of the schools in Dashti-Qala, the teachers used local mud instead of chalk for teaching. Today, we are witnessing the inauguration of a high standard school building. I trust that having such facilities will contribute to the improvement of Takhar's education system."
Officials of Takhar's line departments, district elders, students and teachers celebrated the opening. One of the school buildings is located in the district Dashti Qala, the second one in the district Khaja Bahauddin. Before the constructions, students attended classes under tents that caused problems due to cold, heat, wind, rain and snow.
The new building in Dashti Qala consists of 18 furnished classrooms, seven rooms for administration, a computer and a laboratory, a well, a solar power system, etc. About 700 female students can now attend school in Dashti Qala, protected by a boundary wall. The new building in Khaja-Bahauddin consists of eight classrooms that will host 1,230 students, both boys and girls. The building is similarly equipped to Dashti Qala-school containing rooms for administration, computers and laboratories, water reservoirs, solar power system and a protective wall surrounding the building. Aykhanum Girl School in Dashti-Qala was also equipped with a protective wall to ensure safety to its 950 female students.
Shahri Kohna Girls School principal added: "Before this construction, we used to conduct classes in an old building which didn't have enough space for all students and we had to conduct some classes outside. Students had to sit on the ground which was intolerable for them, especially in summer. Now, this problem has been solved and our students enjoy education in a sound environment that offers all necessary facilities. We are proud to have such a new school building and high level education standards."
The respective District Development Assemblies and the Department of Education jointly decided to build the schools. Both projects are part of the Provincial Development Plan.
The Stabilisation Program Northern Afghanistan (SPNA) is being implemented by KfW on behalf of the German Federal Foreign Office (AA). The program aims at stabilising fragile regions in northern Afghanistan by improving social-economic infrastructure and strengthening local development councils. So far, SPNA has completed 360 projects in 50 districts of Badakhshan, Kunduz, Takhar and Baghlan, including the construction or rehabilitation of almost 200 schools, 37 roads and bridges and 16 irrigation canals. In the same time, the project has trained roughly 18,000 development council members in project selection and monitoring.
---
---
Related Articles
The Afghanistan Research and Evaluation (AREU) has maintained its position as top research Think Tank in Afghanistan, while it has
When Marya Azimi found that she constantly had to turn away large orders for her handicrafts company, she decided she
The first meeting of the High Economic Council meeting was hosted by President Hamid Karzai on Wednesday. President Karzai set