New Electricity Infrastructure Benefits 90,000 Balkh Citizens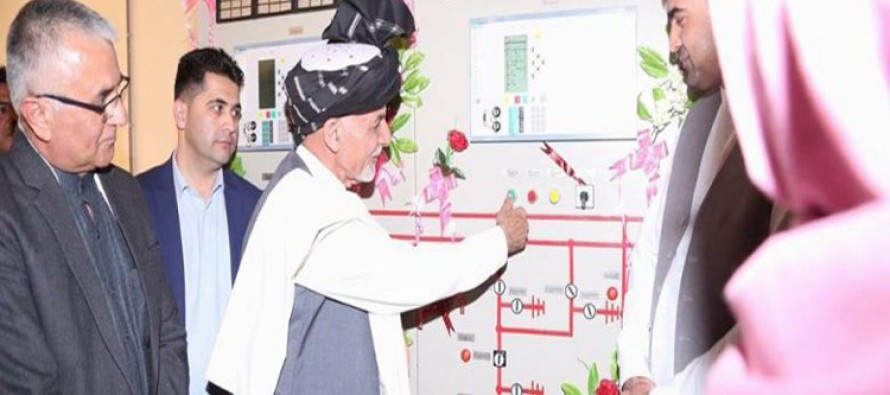 President Ashraf Ghani inaugurated new electricity infrastructure in Balkh province on Thursday. 
A new substation in Khulm district will supply energy to approximately 77,000 people in the district, surrounding areas and the nearby town of Pir Nakhchir. 
In addition, a new distribution network in Marmul district will supply electricity to 1320 households in the area. In total, 90,000 citizens benefit from the new infrastructure. 
Executed by the Afghan Ministry of Energy and Water, the infrastructure is financed by the Afghan-German Cooperation at a total cost of about AFN 761 million. 
President Ghani, representatives of the German government, Balkh's provincial governor, high-ranking officials from Afghan line ministries and representatives from Da Afghanistan Breshna Sherkat (DABS) attended the inauguration ceremony in Khulm. 
Addressing the  occasion, President Ghani said, "I am thankful for the German government's support. Last year, the Afghan people witnessed excellent progress in the energy sector. Citizens in nine Afghan provinces now enjoy electricity in their houses."
Representing the German Federal Ministry for Economic Cooperation and Development (BMZ), Joachim Bischof, said: "I congratulate the Afghan government and the Afghan people for completing this important project. I would like to emphasise that proper maintenance of the infrastructure is needed to ensure high-quality services for the Afghan citizens continuously."
The program North-Eastern Power Supply System (NEPS) is financed by the Afghan-German Cooperation through KfW Development Bank. The program aims at providing energy supply to Afghan citizens, companies and public institutions in northern Afghanistan in order to boost sustainable economic growth. As part of these efforts, NEPS connects northern provinces to the existing North-East-Power System via the construction of substations as well as transmission and distribution lines.
---
Related Articles
The Afghanistan Investment Support Agency (AISA) announced on Wednesday that investment in Afghanistan has declined by 29% in the past
Afghan Finance Minister Eklil Hakimi will travel to Islamabad to attend the Joint Economic Commission (JEC) huddle which is slated
Thirteen young women are among the first to graduate from USAID Promote: Women in the Economy's (WIE) Forward Together Scholarship