New extension building for Department of Education in Faizabad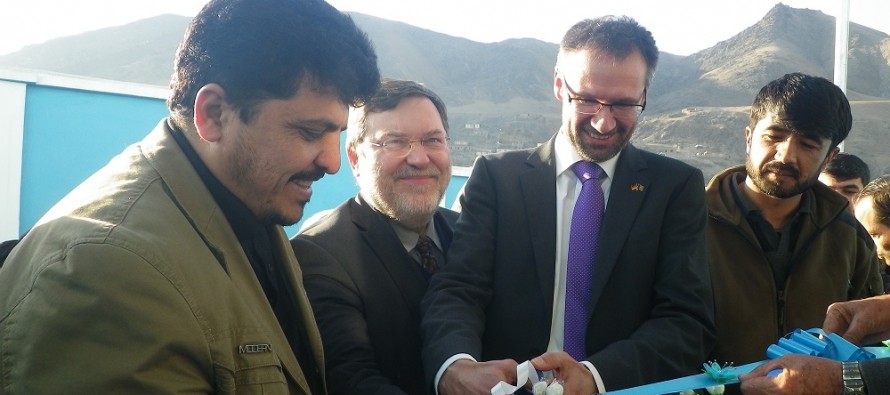 The Afghan Department of Education (DoE) inaugurated its new administrative extension building in Faizabad.
The additional office space will improve the education department's capacity and ability to provide for the basic educational needs of students in Faizabad and the 27 districts in Badakhshan province.
The new extension building has two stories, including one meeting room and 11 administrative office rooms. The new facility also comes with two sanitary rooms and some innovative and energy-saving constructions, including a deep well, water tower, photovoltaic power system, boundary wall and emergency exit stairs.
With the additional office space, the DoE is in a better position to address the basic needs of students in Faizabad and the 27 districts of Badakhshan province. With better facilities, the education department now has more capacity to fulfill its responsibility of providing better education services to the people of Badakhshan province. As the most important institution in local government for combating illiteracy, the DoE is paving the way for widespread improvement of literacy rates.
Following the decision in 2011 by the Badakhshan Provincial Development Committee (PDC), the DoE executed the building project. The DoE was supported by the Regional Capacity Development Fund (RCDF) Badakhshan, financed by the German Federal Ministry for Economic Cooperation and Development (BMZ). The costs of the project amounted to a total of 13,619,813 AFN.
As part of the German Cooperation with Afghanistan, the RCDF is implemented by Deutsche Gesellschaft für Internationale Zusammenarbeit (GIZ) GmbH. The RCDF is sup- porting the development priorities of the Afghan partners at provincial and district level in six Northern provinces of Afghanistan while at the same providing training and coaching programs for civil servants. With its broad range of activities, the RCDF aims to increase Afghan ownership of the development process, strengthen Afghan state institutions on sub- national level and promote transparency and inclusiveness.
---
---
Related Articles
Pakistan is once again causing a major hurdle to Afghanistan's trade with India. As per the Afghan-Pak Transit Trade Coordination
The Afghanistan Chamber of Commerce and Industries (ACCI) released its 7th Business Tendency Survey report which reveals that business condition
Russia's inflation is estimated to hit about 11.4% in 2014, as rouble continues to plunge. Consumer prices rose 2.6% in