New facilities open at Kunduz Regional Hospital with funding from Germany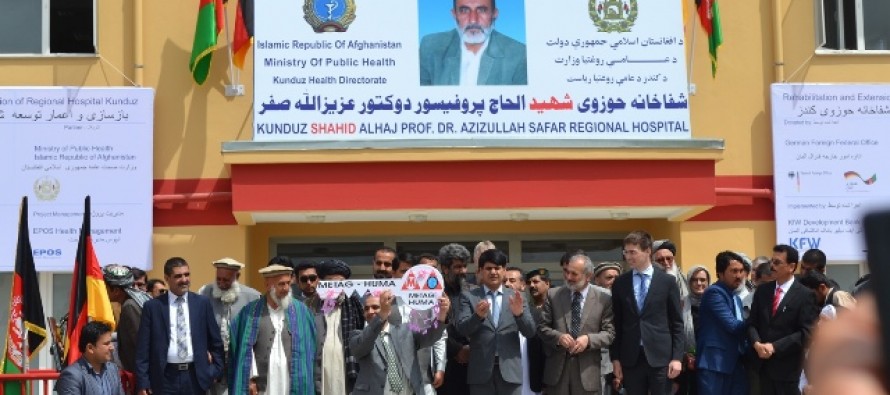 Deputy Minister of Public Health, levitra tablets australia Dr Abdul Basir Sarwar, and Mr. Andreas Glossner, Political Counselor at the German Embassy in Kabul, officially opened the newly refurbished and extended Regional Hospital in Kunduz, funded by the German government through KfW Development Bank.
Now open to the public, the regional hospital is a cialis cost modern secondary health facility ready to serve the entire population (approx. 820,000) of Kunduz (approx. 820,000), as well as referral patients from the neighboring provinces Baghlan and Takhar. To ensure the hospital can provide state-of-the-art healthcare, € 6.75 million (AFN 424.3 million) have been spent on refurbishing, constructing and equipping the new facility, including an infectious diseases ward, an emergency, diagnostic and treatment block with four operation theatres and a mental health unit.
In addition, the existing main block of the hospital was refurbished. The facilities now come with central heating, medical oxygen, air, and ventilation systems. In total, the new and refurbished hospital now houses 331 beds for in-patients. A modern incinerator plant was also installed to ensure the hospital's waste management system meets modern medical hygiene and healthcare standards. The measures also included a four-wheel drive ambulance to improve the hospital's capabilities and capacity in the field of emergency care.
At the ceremony, Dr. Sarwar expressed his gratitude to the German people.
"The German people know that a good hospital is a vital part of a society's infrastructure. The people of Kunduz deserve good medical care, in a modern health facility. This building gives its new owners everything they require to provide urgently needed, state-of-the-art medical services. This is an essential step in building people's trust in the government," said Dr. Sarwar
Glossner described Kunduz Regional Hospital as a flagship project for Afghan-German cooperation. He highlighted the exemplary support and guidance from the Ministry of Public Health and the close collaboration with other Afghan partners involved in the construction work. Mr. Glossner said the hospital would bring essential government services to the provinces of Baghlan, Kunduz, and Takhar.
The rehabilitation and extension of the provincial hospital Kunduz is part of a wider initiative by the German government. The program in partnership with the Afghan Ministry of Public Health aims at significantly improving public health services in northern Afghanistan by upgrading and modernizing health facilities in the region. Under this initiative, Germany in recent years has allocated a total of €72 million (approx. AFN 4.53 billion) in funding for rehabilitation and extension work at two regional hospitals (Mazar-e-Sharif and Kunduz), two provincial hospitals (Taloqan and Faizabad), three district hospitals (Khanabad, Baharak and Kishem), one comprehensive health centre (Warduj) and one basic health centre (Galabatur). Several of these projects have been completed; others are in preparation or ongoing.
---
---
Related Articles
According to an investigation by the Emergency Response Committee (ERC), two million Afghans would be vulnerable to winter calamities this
Afghan journalist Zaki Daryabi, Editor-in-Chief of newspaper Etilaat Roz, is among the list of shortlisted nominees for the 2020 Anti-Corruption
The 3rd Annual Middle East and Africa Insurance Summit was held in Dubai city on January 14th and 15th  to