New health and education projects completed in northern Takhar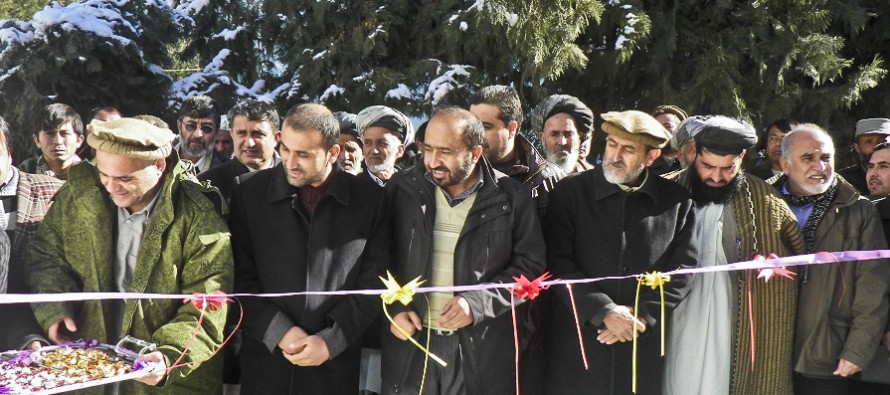 Two new development projects completed with German assistance have been completed in the north of Takhar province.
In Farkhar district centre, a new emergency unit was opened at Farkhar Hospital. In Baharak district, a new boundary wall was built for Ghullam Sarwari Female High School.
Over 60,000 citizens live in both districts and will benefit both directly, through better healthcare services, and indirectly (by being able to send their daughters to school) from the newly completed measures. Both projects were planned and executed by the Provincial Development Council (PDC) and implemented by the provincial line departments with technical assistance and almost AFN six million in funding from Germany.
The new Emergency Unit at Farkhar Hospital now offers healthcare and enough space for emergency issues the health centre needs to treat and standard emergency health services for inhabitants in 83 villages in Farkhar district. At the opening ceremony for the new unit, Mr.HafizullahSaffi, Director of the Department of Public Health, emphasized that the people of Farkhar are very happy with this important project: "Everybody in the district now benefits from better emergency services and healthcare. We can also employ professional health service workers in the hospital. We are now in a better position to reach out with services in the remote district."
Ghullam Sarwari Female High School is one of 28 schools in Baharak district. Around 800 girls attend the school, and the new wall provides extra security and shelter for them to pursue their studies. The wall also helps give rural families the confidence that their daughters receive an education in a safe environment. By improving both enrollment numbers and general literacy among women in Baharak district, families will be able to improve their economic situation. At the inauguration ceremony for the boundary wall, Mr. Abdul Qadir Afghan, Director of Takhar's Department of Education, explained, "Construction of this boundary wall will benefit families in Baharak as they now can take advantage of the opportunity to receive services from the education department, which will also help develop trust in civil services in general within the community."
Both projects were developed by the respective departments of public health and education and the District Development Committees (DDC) in Fakhar and Baharak. Last year in July, the projects were prioritized and the decision for construction of the building was made by the Provincial Development Committee (PDC). The departments started implementation with support from the Regional Capacity Development Fund (RCDF) with funding from the German Federal Ministry for Economic Cooperation and Development (BMZ) for a total of AFN 5,925,690.00.
As part of the Afghan-German Cooperation program, the RCDF is implemented by Deutsche GesellschaftfürInternationaleZusammenarbeit (GIZ) GmbH. The RCDF provides support for its Afghan partners' development priorities both in provinces and districts in six of Afghanistan's northern provinces. At the same time, the RCDF provides training and coaching programs for civil servants. With its broad range of activities, the RCDF aims to increase Afghan ownership of the development process, strengthen Afghan state institutions and promote transparency and inclusiveness.
---
---
Related Articles
US Deputy Ambassador Richard Hoagland and Additional Secretary Defense Rear Admiral Farrukh Ahmed signed the agreement on transit of cargo
As the elections deadlock ended, there were glimpses of hope that Afghani currency would appreciate in value against the US
By Harun Yahya One of the Islamic world's most serious problems is its general underdevelopment. Therefore, one of the Islamic