New hospital for 30,000 people in Takhar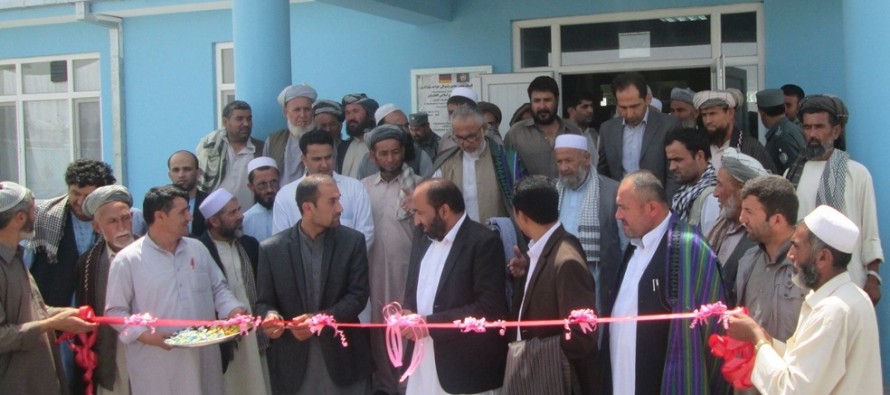 A newly constructed Comprehensive Health Centre (CHC) in Takhar's Khaja-Bahauddin district was officially handed over to the province's Department of Public Health viagra super active (DoPH) on Monday.
The new hospital will provide health care services to approximately 30,000 people living in the district. Every day, around 70 – 120 patients are expected to be admitted to the hospital for treatment.
The new hospital building consists of patients' rooms for women and men, a laboratory and a pharmacy. Additionally, it has a vaccination room and separate staff rooms for female order cialis on line and male employees.
The facility was built and furnished at a total cost of roughly AFN 21 million, funded by the German government via the Stabilization Program for Northern Afghanistan (SPNA).
Before the opening of Khaja-Bahauddin's CHC, the district's inhabitants did not have proper access to health facilities. Those who could afford would make a trip to the provincial hospital in Taloqan or to neighboring districts' health centers. However, they faced several canadian pharmacy cheap levitra generic canada challenges. Bad or blocked roads and poor weather conditions sometimes generic levitra good or bad made it impossible for people to reach the health facilities in time.
"Today we are taking over a project that is crucial for improving people's access to medical services. It will improve the quality of life – not only for the people from Khaja-Bahauddin, but also from neighbouring districts, which will use the hospital as well", Dr Hafizullah Safi, Director of Takhar's Public Health Department said during the ceremony.
The inauguration event was attended by the Director of Sectoral Services, Mustafa Rasooly, representatives of the Afghan-German Cooperation, representatives of the implementing organisation (Aga Khan Foundation), the head of Takhar's line departments, elders of the district as well as doctors and members of the health council.
Khaja-Bahauddin's District Development Assembly (DDA) and the DoPH jointly decided to build this hospital based on the District Development Plan (DDP). The German government's Stabilization Program for Northern Afghanistan (SPNA) provided support for implementing this project.
The program SPNA is funded by the German Federal Foreign Office, managed by KfW Development Bank and implemented by the Aga Khan Foundation in partnership with the non-governmental organisation Mercy Corps and the French Agency for Technical Cooperation and Development (ACTED). The entire program's budget amounts to more than AFN 7 billion for the period from 2010 to 2018, targeting the Northern provinces Badakhshan, Takhar, Kunduz and Baghlan. So far, more than 250 small and medium sized infrastructure projects (most of them educational infrastructure) have been funded in 57 districts. In Takhar alone, 76 projects have been accomplished in 13 districts, including the provincial capital Taloqan.
---
---
Related Articles
The U.S. Agency for International Development (USAID) Promote: Women in Government (WIG) project hosted a graduation ceremony to recognize 300
The central bank of Afghanistan, Da Afghanistan Bank (DAB), has announced to sell USD 15mn and 220mn Pakistani Rupees on
A family in Herat has started the first ostrich farming industry in the province with an initial investment of USD