New operations & maintenance manual for Afghanistan's infrastructure projects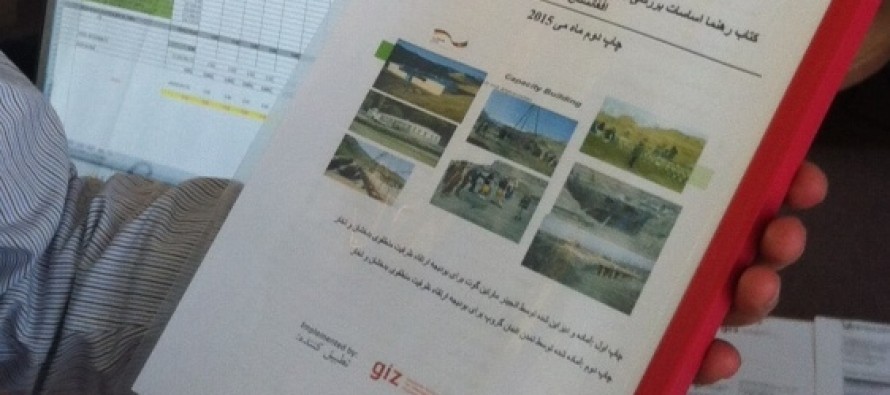 Last week, heads of all provincial and regional offices of the Independent Administrative Reform and Civil Service Commission (IARCSC) met at the Civil Service Institute in Kabul to present Afghanistan's first manual for operations & maintenance of small- to medium-sized infrastructure projects. The new manual can be used by engineers and civil servants based in line departments and responsible for keeping measures running and functional.
As the first manual of this kind small-scale development projects, the new publication marks a step forward with technical specifications based on standards developed in Afghanistan. With these guidelines, the country's line departments and authorities will be in a better position to manage and ensure long-term running of the public infrastructure, for example, gravel roads and village schools, small bridges and flood walls, basic clinics and small hydropower projects.
The manual was developed with support from the German government's program for regional capacity development, which works together with the IARCSC in the provinces Balkh, Samangan, Baghlan, Kunduz, Takhar and Badakhshan to train civil servants and engineers in line departments. After over a decade of development in Afghanistan, with vast investments in infrastructure from the international community, local authorities are now in charge of operating and maintaining basic public infrastructure facilities and installations.
Besides drafting the manual, the Faizabad office of the IARCSC also schooled civil servants in the new guidelines over a period of six months. Additionally, over 100 engineers from line departments in Balkh, Samangan, Baghlan, Kunduz and Takhar, have instructed in the manual syllabus. At the presentation for the new manual in Kabul, the provincial heads were able to exchange ideas based on their experiences in the northern provinces. The next steps will involve incorporating the operations & maintenance syllabus and guidelines in the national IARCSC curriculum for civil servants and line engineers.
As part of Germany's cooperation with Afghanistan, the Regional Capacity Development (RCD) program is financed by the German Federal Ministry for Economic Cooperation and Development (BMZ) and implemented by Deutsche Gesellschaft für Internationale Zusammenarbeit (GIZ) GmbH. In six provinces in northern Afghanistan – Badakhshan, Baghlan, Balkh, Kunduz, Takhar and Samangan – RCD supports its partners' development priorities in the provinces, districts and communities, while aiming to increase Afghan ownership of the development process, strengthening state institutions and promoting transparency and inclusiveness.
---
---
Related Articles
51 civil engineers from 10 line departments in Kunduz successfully completed training in use of AutoCAD software, the first course
Iranian President Hassan Rouhani inaugurated the first phase of the Chabahar port on the Gulf of Oman on Sunday. Situated
Baghlan's Department of Agriculture and Rural Rehabilitation said the National Solidarity Program (NSP) has so far completed 2000 welfare projects