New school for more than 300 children opened in Rustaq, Takhar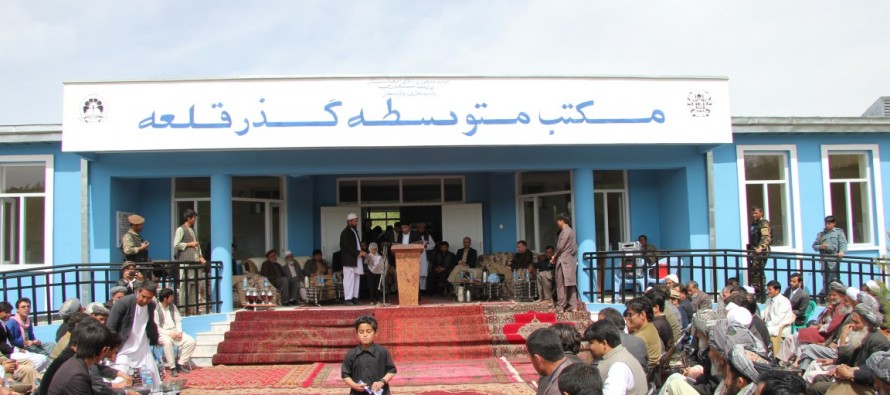 A newly constructed secondary school in Rustaq district, Takhar, officially opened its doors for up to 313 students on Sunday.
The school consists of eight fully furnished classrooms, four administrative rooms, a computer lab and a laboratory. Furthermore, a solar panel electrical system, latrines, a sanitation system are in place and drinking water readily available.
The school will provide education for children from 1st to 9th grade and was built at a total cost of AFN 24 million, funded by the German government.
More than 300 children can now attend classes in a proper school building. Up to now, the kids were taught under tents. A boundary wall that encircles the school will ensure the safety of all students and teachers.
Speaking at the opening ceremony, Mr. Sayed Enayatullah Nawid, Director of Education of Takhar province, said, "The opening of this new school is a milestone for Takhar, because it provides a safe learning environment for the students and teachers. Our department will provide all the necessary means to maintain the school well. Now it's important that the parents of the communities send their boys and girls to school."
Mr. Michael Sickert, representative of the Afghan-German development cooperation, added, "With the construction of this school, Germany didn't invest in a building. Together with our Afghan partners, we invested in the young people and thus in the future of Afghanistan." Various heads of Takhar's line departments, elders of the district, students and teachers celebrated the school opening together.
Rustaq's District Development Assembly (DDA) and the Department of Education jointly took the decision to build the school, based on the District Development Plan (DDP). The German government's Stabilization Program for Northern Afghanistan (SPNA) has provided assistance for the project.
SPNA is funded by the German Federal Foreign Office, managed by KfW Development Bank and implemented by the Aga Khan Foundation, in partnership with Mercy Corps and ACTED. The total program budget amounts to over AFN 7 billion for the period 2010 to 2017, targeting the North-ern provinces Badakhshan, Takhar, Kunduz and Baghlan. So far, more than 250 small- and medium-size infrastructure projects have been funded in 37 districts; in Takhar alone, 76 projects have been accomplished in 13 districts, including the provincial capital Taloqan.
---
---
Related Articles
The plan for the construction of the Marriott Hotel in Kabul has been cancelled due to rising concerns about the
Despite the influx of billions of dollars to the agriculture sector of Afghanistan, the agriculture sector has been dwindling in
On the days of Mila Gul-e-Surkh in Mazar-e-Sharif, sales of Afghan products witness a drastic increase. Mila Gul-e Surkh, the