NPC Approves Kabul-Road Project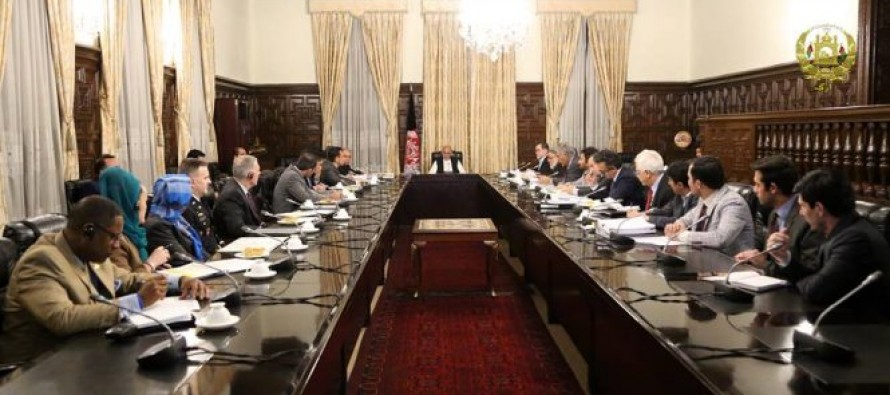 Chaired by President Mohammad Ashraf Ghani, the National Procurement Commission (NPC) approved 21 new contracts, including the construction of 7 kilometers road from Kabul to Logar province.
The Commission approved 21 new contracts having a total value of around 4.9 billion Afghanis.
The approved projects included:
Construction of Kabul-Logar road
Procurement of 10,000 tons of wheat seeds
Procurement of 9 various types of toilet equipment for the Ministry of Defense
Contract for the connection of VCN and TDF sites via NSS12 satellite related to the Ministry of Information Technology and Telecommunications
Procurement of 15 various types of equipment for the workshop of the Ministry of Interior
Procurement of 13 various types of grains for the accounts department and detention facilities of the Ministry of Interior
The NPC rejected the contract for procurement of 4 types of meat for the VIP protection unit of the presidential palace.
The meeting approved the following modifications to contracts:
Construction of walls in 5,000 acres of land belonging to the Balkh customs department
Changes in the deposits for the non-consultative BPHS and EPHS health services by the Ministry of Public Health
Construction of hydropower system by the Ministry of Energy and Water in Poza Lich of Ghor province
Technical cooperation agreement with the UNESCO for the preservation and making of documentary on Mes Aynak
Construction of the 4th phase of road from Shorabak of Kanadhar to Spin Boldak district
---
Related Articles
Afghan carpets were recognized as the best rugs and secured the first position during a Middle East exhibition in Dubai.
The "Women Weekend Market", a three-day business exhibition for women, has kicked off in Kabul University. Organized and funded by
Residents from various regions of Kabul city have complained about the poor conditions of the roads in the city. The