Over 1,200 civil servants certified for administrative work in Kunduz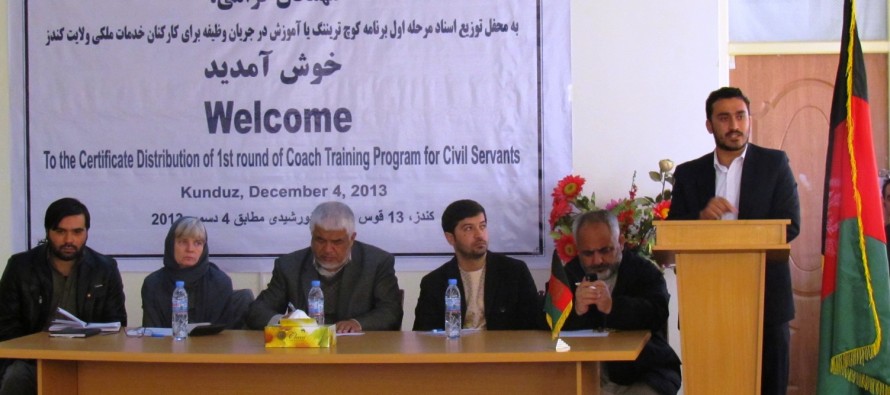 1,293 civil servants from 16 line departments and members of the Provincial Council in Kunduz successfully passed a 12-month course implemented by the Independent Administrative Reform & Civil Service Commission (IARCSC).
The participants were coached in various fields: Administrative Management, Human Resources Management, Financial Management and Procurement. With the civil servants qualified in essential administrative and management processes, the provincial government in Kunduz can improve services for citizens.
Mrs. Badal Bibi, head of the Department of Women's Affairs and a participant in the coaching, praised the program saying, "I am very proud of my achievements in this course and would like to thank the German Federal Government and IARCSC for this good program."
The administrative coaching course was part of a broader project to distribute office equipment and provide training for 41 line departments. The courses taught participants how to use the office equipment properly together with essential knowledge of management systems. With a deeper understanding of administrative processes, the civil servants and Provincial Council members are now better equipped to fulfill their tasks and responsibilities. With qualified personnel and new infrastructure, the Provincial Government can improve services for the 978,200 citizens of Kunduz province.
In May 2011, the Provincial Development Committee (PDC) in Kunduz took the decision in favor of the coaching program and appointed the IARCSC Kunduz to deliver the courses. Financed by the German Federal Ministry for Economic Cooperation and Development (BMZ), the RCDF in Kunduz implemented the project.
As part of German Cooperation with Afghanistan, the RCDF is implemented by Deutsche Gesellschaft für Internationale Zusammenarbeit (GIZ) GmbH. In six Northern provinces of Afghanistan, the RCDF sup- ports the development priorities of the Afghan partners at the provincial and district level, while providing training and coaching programs for civil servants. With its broad range of activities, the RCDF aims to increase Afghan ownership of the development process, strengthen Afghan state institutions on the sub-national level and promote transparency and inclusiveness.
The IARCSC, whose duty is to "lead reforms, prepare and develop public administration policies and monitor and evaluate implementation process of reforms" was established in accordance with the Bonn Agreement and based on a President's Decree in the year 2003. One of the IARCSC's main tasks is to develop the capacities of civil servants to help line departments deliver high quality services in a transparent manner to the population. The legal foundation for the commission and its structure was laid with ratification of Afghanistan's civil service law, based on Article 50 of the Afghan Constitution.
---
---
Related Articles
Ahmad Shaheer Shahriar, the Deputy Minister of Programs Minister of Rural Rehabilitation and Development (MRRD) formally inaugurated the Maintenance Cash
Funded by the United States Agency for International Development (USAID), three new markets have been inaugurated in Maimana city of
Sarco Abad factory, a rare women-only factory in Kabul, will soon lose its Nato contract to make military uniforms to