Pakistan, Iran inaugurate the Pak-Iran gas pipeline project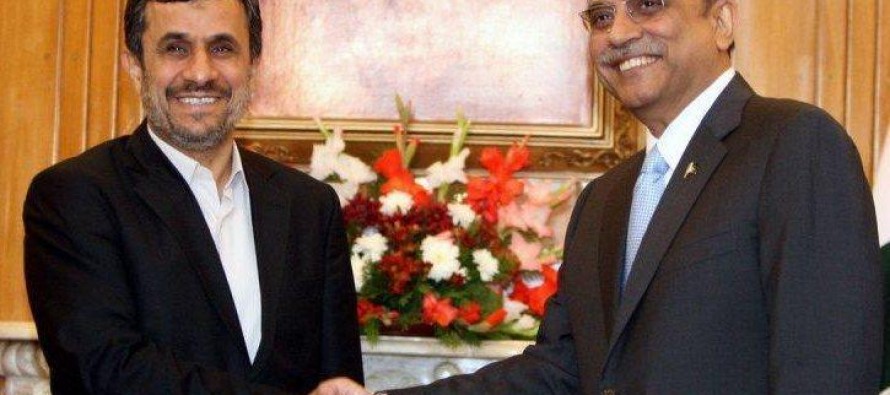 The Pakistan-Iran gas pipeline project was officially inaugurated jointly by the Iranian President Mahmood Ahmadinijad and his Pakistani counterpart Asif Ali Zardari on Monday at border town of Gabad.
The pipeline would help Pakistan to fight its severe energy crisis which has damaged its industrial setup specially the textile industry.
Under the project Pakistan would get 21.5 million cubic feet of gas daily.
Iran has already completed the laying down 900 kilometers of the pipeline in its territory while it is also ready to provide financial assistance to Pakistan to complete the construction of the pipeline in its territory.
The two nations have decided to go ahead with the project despite the US pressure.
While the US supports the Turkmenistan-Afghanistan-Pakistan-India (TAPI) project, it opposes the Pak-Iran gas pipeline.
Earlier, US State Department spokesman Patrick Ventrell had said last week that it was in Pakistan's best interest to avoid any sanctionable activity.
Both the Presidents will also sign an accord for 400'000-barrel capacity oil refinery in Gwadar.
---
---
Related Articles
U.S. Embassy Special Chargé d'Affaires Ambassador Hugo Llorens and Chief Executive of Afghanistan, Dr. Abdullah Abdullah, launched the Second Textbook
Afghanistan's poultry industry has seen a boost with around $1 billion worth of investment made in this industry over the
Afghan Wireless Communication Company (AWCC), Afghanistan's first mobile communications company, announced the launch of the Afghan Wireless 4G/LTE Network—Afghanistan's first