Pakistan resumes work on 2nd lane of Torkham-Jalalabad Road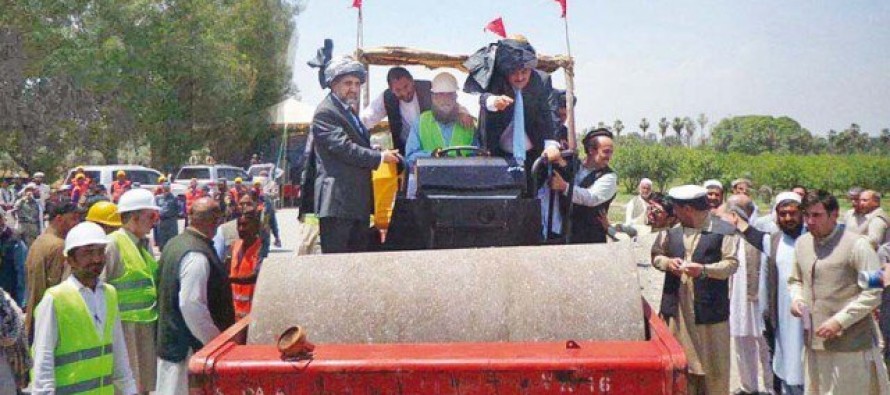 Pakistan has resumed work on the construction of the 2nd lane viagra health store of Torkham-Jalalabad Road.
Construction work on the 2nd lane of Torkham-Jalalabad road was suspended since 2006 due to shortage of funds.
The project was jointly inaugurated by the acting governor of Nangarhar, Muhammad Hanif Gardiwal, Deputy Public Works Minister Noor Mangal and FWO Director General Maj-Gen Muhammad Afzal and Pakistan Ambassador Syed Abrar Hussain, a viagra tablets for sale statement issued by the Embassy of Pakistan in Kabul said.
Addressing the ceremony, Garidwal thanked Pakistan for the project and pharmacy mastercard levitra said the highway would further strengthen ties between the two neighboring countries.
The two nations had agreed to start construction of the second lane during President Ashraf Ghani's visit to Islamabad in November.
In January this year the Executive Committee of National Economic Council (Ecnec) approved construction of 73.67-km-long additional carriageway of Torkham-Jalalabad Road.
The project is being implemented at a total cost of around 7bn Pakistani Rupees, which will be fully borne by Pakistan.
The 75-km long, two-lane additional carriageway will be constructed along the existing one which was completed back in 2006 by the Frontier Works Organization (FWO) of Pakistan.
According to a statement from Pakistan's embassy in Kabul, the total width of this road will now be expanded to 14.6 meter into a four-lane carriageway. The highway will include 7 bridges and 6 underpasses to ensure smooth flow of traffic.
---
---
Related Articles
The Daily Times of Pakistan has revealed that Pakistan exported around USD 2.8mn worth of fresh, chilled or frozen swine
Officials from the customs department in Nangarhar province have reported that Nangarhar experiences a 20% increase in the state revenue
Asian Development Bank's country director Joji Tokeshi signed an agreement with Afghan Finance Minister Omar Zakhilwal on donating USD 200mn