Pakistan, Turkey, Afghanistan sign Trilateral MoU on trade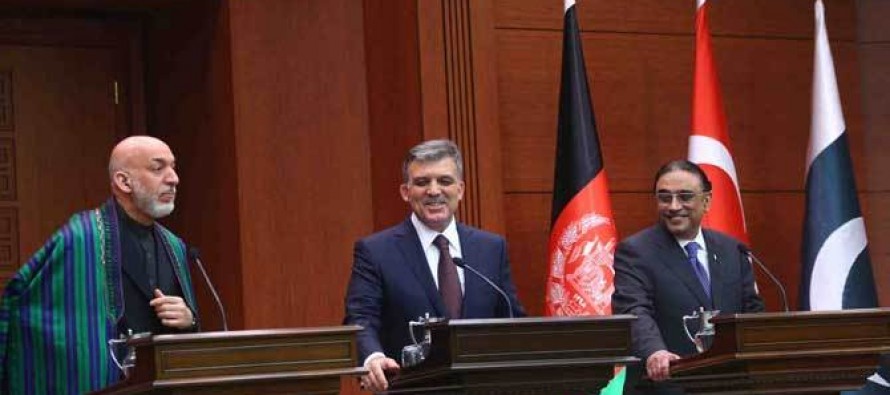 The governments of Turkey, Afghanistan and Pakistan signed a Trilateral MoU on promoting and facilitating trade and economic cooperation among the three countries during the 7th trilateral Summit, held in Ankara on Wednesday.
 The MoU provides for the establishment of Trilateral Trade Council, strengthening economic ties, enhancing investment and exploring possibilities for cooperation in services sectors among the three countries.
 The MoU will also facilitate exchange of information particularly concerning their respective legislation on trade and economic activities.
 The Council meeting will be convened annually or when the parties deem it necessary more often, alternately in Turkey, Afghanistan and Pakistan.
The entrepreneur and organizations of the three countries would also be encouraged to participate in exhibitions, fairs and other promotional activities as well as to promote the exchange of trade delegations and business representatives.
The MoU has been initially signed for a period of one year and will be renewed automatically for successive periods of one year as per consent of the three countries.
Foreign Minister of Pakistan Hina Rabbani Khar, Afghan Foreign Minister Zalmai Rassoul and Turkish Minister for Communication Binali Yildirim signed the MoU on behalf of their respective governments.
The three presidents witnessed signing of the MoU at the Cankaya Presidential Palace, Ankara.
---
---
Related Articles
According to a recent report by the Special Inspector General for Afghanistan Reconstruction (SIGAR), Afghan Ministries are unable to manage
The Executive Board of the International Monetary Fund (IMF) completed the first review of the arrangement under the Extended Credit
Afghan government officials and business leaders have advanced two plans that, once finalized, should help the country increase trade –