Pashtu Abad School Principal Provides Essential Tools for Ghazni Youths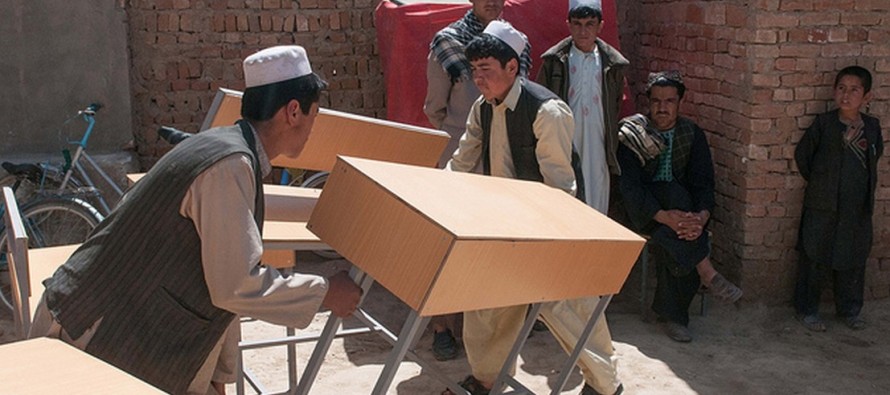 Nestled among the bustling streets in Ghazni City, children come and go through a small gate.  The gate leads to a schoolyard, where green tiles on a large school glisten in the sun.   In the classrooms, teachers instruct boys to become the next generation of men in Ghazni district and Afghanistan.
Over 600 boys attend the Pashtu Abad School. With such a large number of students, the school needed more desks and supplies.
"Many of the people who have children attending the school are poor and they cannot afford to buy school supplies or even book bags to come to school with," said Whalia Hakeem, the Pashtu Abad School principal.  "With pencils and notebooks and book bags, the children will be motivated and will enjoy the experience even more with new desks and chairs."
The Nejat Community Council president, Khalid Hotak, says the council's mission is to cooperate with the Afghan government in eradicating oppression, corruption, and injustice. Hotak and his council members carried out this mission by coordinating for and distributing book bags, school supplies, and desks for the school, April 20.
"If you are not going to engage these children and teach them and motivate them, then they will follow the wrong path," said Hotak.
 The school's principal appreciates the council's efforts and takes sole responsibility in facilitating the needs of his school.
"My mission is to provide these children with whatever they need through whatever means I can provide," said Hakeem.  "I want to provide them with the opportunity to learn and to study hard so they can become good men for their communities."
 The Pashtu Abad School is an all-boys school that includes mathematics, science, and Pashtu reading and writing in the curriculum.
"This is the first Pashto school in the area and by teaching the students Pashto, it will be easier for them to learn, because they are learning in their own language," said Hakeem.
With more and more Pashtu relocating to this area of Ghazni City, Hakeem is encouraging the growing public to bring their children to his school.
"For Pashto, it is like darkness right now, because we have gone away from education," said Hakeem.  "I want to help them by giving them what they need in order to attend."
 Currently the school is a primary school for younger students, but Hakeem hopes it will accommodate high school students in the future.
"The motivation for the kids will come from the changes they see in the classrooms," said Hakeem.  "One day these children will be the leaders of this community, not just the local community, but the national community."
---
---
Related Articles
The National Solidarity Program (NSP) of the Ministry of Rural Rehabilitation and Development (MRRD) have completed uplift projects in Lash
Da Afghanistan Bank (Central Bank of Afghanistan) announced that all private companies in the country can withdraw up to $25,000
The Afghanistan Investment Support Agency (AISA) accused the government of lacking a property strategy for economic development. This comes as