Petition Writers in Afghanistan still have enough customers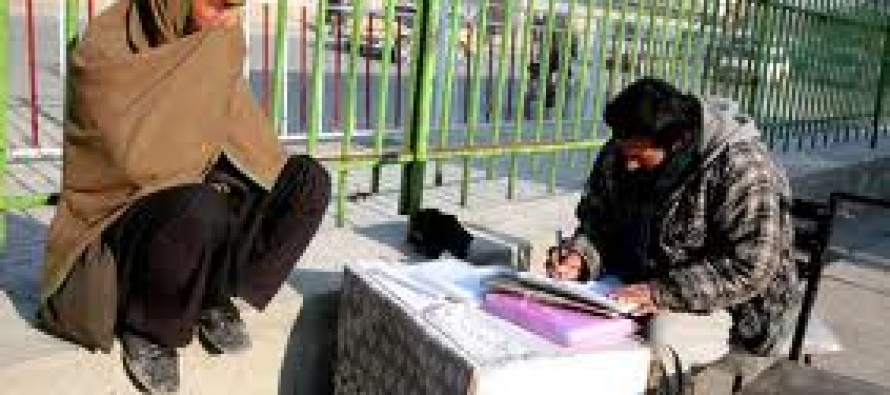 By Mohammad Naeem: Despite being equipped with the new systems and computers, the Afghan Government agencies still need a hand-written petition or request from their customers to begin their administrative process with.
Petition writing as a profession has been customary in Afghanistan for a long time, and in the past, the retired government staff and clerks (who were the most educates ones among the mass) would join this profession. In the past, petition writing was common because many people were not educated enough and  had to seek help from a petition writer for expressing their problems and concerns.  Even today that most of the people are educated, they still refer to petition writers to write their request letters and the reason for this is that the petition writers are very familiar with the particular language expressions used in the government offices.
Owed to the several years of  their experience, petition writers have become familiar with some legal matters and know which particular department the requests should be written to. In addition, the officially printed request forms can be found with the petition writers and are being sold to the public through them.
Many people prefer using these petition writers to write their requests to government offices for a few Afghanis rather than writing  the request themselves. But, many more rely on the petition writers as they have information about the bureaucracies that exit in the government offices. And, they can advise on the administrative processes of the different departments and write the request accordingly.
The petition writers must obtain license for their work from the Ministry of Justice. However, the criteria to be given a license are not too demanding. Having some education and familiarity with legal matters and government administration are enough to secure a license.
The petition writers are satisfied with their work and income and some of them say that their work should not be undermined. They are proud to say that they have even written request letters for Parliament Members and other well-known individuals.
They are seen mostly in front of the government office buildings that have more customers such as the Traffic Department, Passport Department, Police Department, Governor Office, Supreme Court, and etc.
---
---
Related Articles
Afghan government has welcomed the Food Fortification Program of the Khalifa bin Zayed al Nahyan Foundation that is aimed at
Afghanistan-Iran's second trade exhibition was inaugurated in Kabul city on Tuesday by Afghan Second Vice-President Sarwar Danesh and Iranian Vice-President
The International Center for Afghan Women's Economic Development Center hosted the Afghan Women's Economic Forum on 17-18 February with a