Poor face choice between food and medicine as winter sets in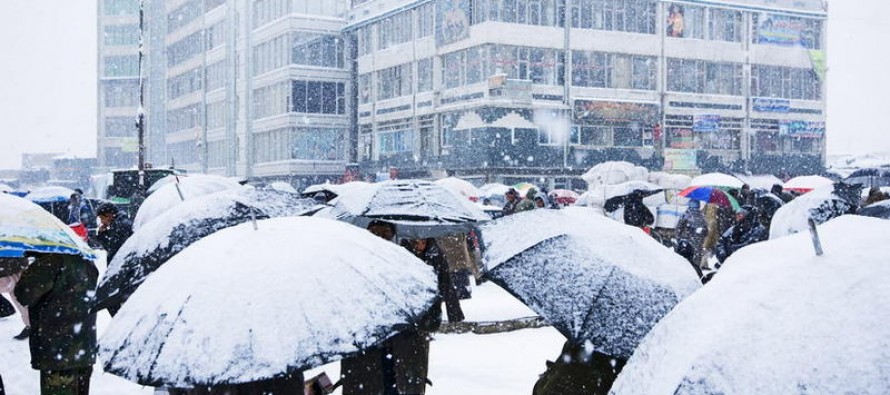 In the gray light of each cold dawn, the parents of 10-month-old Shoaib hold their own breath as they listen for the rasp of his, waiting to see whether their coughing, feverish little boy has survived another night.
Winter's chill has settled over the Afghan capital, and with it, privation is sharpening, especially among the city's poor. Nighttime temperatures regularly fall into the teens, or even lower.
The season's first snow is on the ground, the open sewage ditches are crusted over with ice, and in shantytowns such as the one where Shoaib's family lives, survival turns on a series of cruelly simple calculations.
"If I buy food, I can't afford to buy firewood. And if I buy firewood, I can't buy food," said Shoaib's father, Faida Mohammed, a 40-year-old laborer who lives with his family of 12 in a two-room lean-to alongside one of Kabul's busier traffic circles. "If we eat lunch, we won't have dinner.
If we eat dinner, there's nothing for breakfast in the morning. All the time, you have to choose."
Seasonal hardship is nothing new for Afghans, but a combination of factors is making this winter harder than usual to bear. The number of refugees from other parts of the country, known as internally displaced people, has ballooned to an estimated half a million. Many end up in the capital after fleeing fighting elsewhere, and make their homes in slum encampments that authorities euphemistically call "settlements."
Parwan Du, where Shoaib's family lives, began as a few tents on an open lot, some using crumbling mud-brick walls as supports for flimsy shelters made of plastic sheeting and plywood. Now it is home to about 230 people, some of whom have been there for years.
With the city's population thought to have tripled to about 4 million during this decade of war, the few services on offer are stretched thin.
Electricity falters; potholed streets grow more impassable as newly fallen snow turns to icy slush and then to clinging mud before the cycle begins again.
As people forage for fuel, the city's few trees are stealthily denuded of low-hanging boughs. On a recent day, few looked twice at a ragged man dragging a scavenged branch three times his height along a heavily trafficked thoroughfare, its dead leaves swirling under the wheels of passing cars. Smoke from wood and coal fires used by most households for heating veils the capital in an acrid brown haze.
In a city where much of public life takes place outdoors, the cold gives many passersby a hunched, pinched look, especially as the early dusk falls. Customers linger in corner bakeries, seeking the ovens' warmth. Outdoor vendors and beggars gather around smoky trash fires in metal barrels.
Afghanistan's Meteorological Authority says this winter has not produced historical lows, but is forecast to be colder than the preceding few.
With the falling temperatures, winter aid has become more crucial. Late last month, the United Nations refugee agency handed out blankets, plastic sheeting, warm clothes and fuel to about 300 families in Deh Sabz, an impoverished district of Kabul. But the demand far outstrips the supply, aid workers say.
"The ones we are helping are the most desperate we can find," said Mohammad Nader Farhad, a spokesman for the Office of the United Nations High Commissioner for Refugees. "There are many, many others who are also suffering." Despite billions of dollars in international assistance over the last decade, urban poverty is becoming more entrenched across Afghanistan, aid.
-Frontier Post
---
---
Related Articles
Officials from the intelligence department have managed to foil a timber smuggling network that had been active in recent months
The House of Representatives expressed concerns over the decline in the national revenue, fearing the government would not be able
The World Bank and the Islamic Development Bank have agreed on investments for the Central Asia and the South Asia