Potato price declining in Bamyan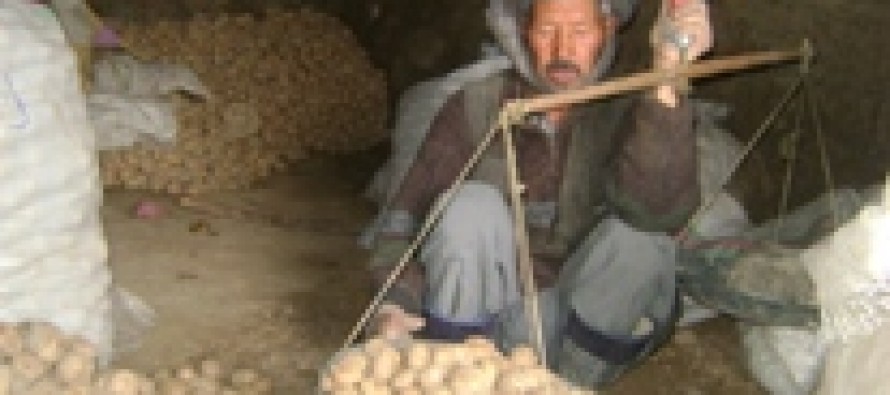 Bamyan farmers are complaining that the price of potatoes is at its lowest record in the province.
According to the farmers, Pakistani potatoes are bought at 140 AFN per seven kg, while the same quantity of Afghan potatoes is bought at 50 AFN or less.
Saadudin, a farmer from Bamyan, claimed that the lower prices have caused millions of losses to the farmers in the province.
Another farmer, Mohammad Juma, blamed the government for its failure to provide farmers with a proper market for their products.
"If our access to the market remained poor, we would no longer be able to meet the expenses for potatoes' growth."
Mohammad Taqa, who has grown more than 5,000 Sair (1 Sair=7kg) of potatoes, said he has not had any buyer for his potatoes so far, compared to previous years when traders would come before the harvest season had even begun.
Ali Raza Hasanzada, CEO of Chamber of Commerce and Industries in Bamyan, links the fall in prices of potatoes to the high imports of potatoes from Iran and Pakistan, adding that previously markets of Herat and Helmand would be filled with potatoes from Bamyan; however, now those markets are dominated by foreign potatoes.
Furthermore, the lack of a standard packing process and power outages adversely affect the quality of the potatoes, said Mr. Hasanzada.
According to the provincial officials, potato products have increased by 20% from last year's, which may reduce the prices to 40 AFN per 7-kg. Last year, potatoes in Bamyan were sold at 65-70 AFN per 7-kg.
---
---
Related Articles
The Balkh District Governor's Office officially celebrated the start of construction work for a new public library in the district
The 3rd Annual Middle East and Africa Insurance Summit was held in Dubai city on January 14th and 15th  to
A shortage water reservoirs and sharing of the precious, but depleting, resource with neighbours have created a critical situation for