President Ghani attends SCO Summit in Uzbekistan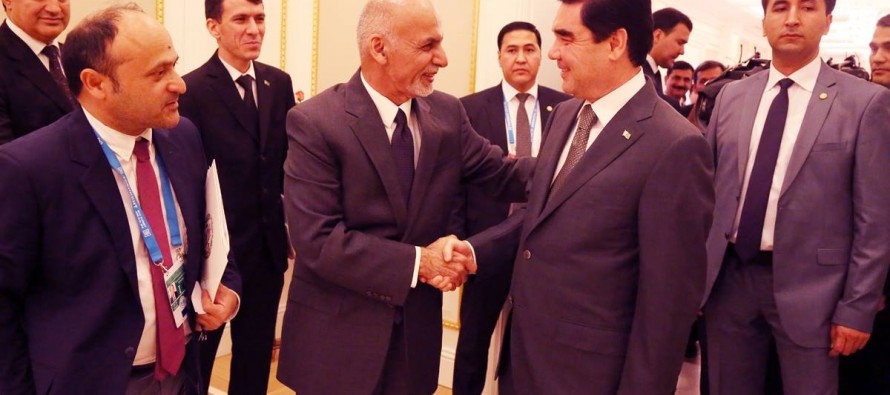 President Ashraf Ghani led a high-level delegation on Thursday afternoon to attend the two-day Shanghai Cooperation Organization (SCO) summit in Tashkent, Uzbekistan.
Representatives from 18 countries participated in this summit, which was chaired by Uzbek President Islam Karimov.
The heads of the SCO member-states, namely Kazakh President Nursultan Nazarbayev, Chinese President Xi Jinping, Kyrgyz President Almazbek Atambayev, Russian President Vladimir Putin, Tajik President Emomali Rahmon attended the summit.
The SCO observer-states were represented at the summit by Afghan President Ashraf Ghani, Belarusian President Alexander Lukashenko, Mongolian President Tsakhiagiin Elbegdorj, Pakistani President Mamnoon Hussain, India's Prime Minister Narendra Modi and Iranian Foreign Minister Mohammad Javad Zarif.
As many as 1000 representatives of the SCO member-states, international organizations, as well as foreign media attended the summit.
At the sidelines of the summit President Ghani met with his Turkmen counterpart Gurbanguly Berdimuhamedov, who participated in the summit as a guest of the presiding country, to confer on bilateral relations and implementation of regional projects.
The Turkmen President invited President Ghani to attend inauguration of the Aqina railroad in the upcoming months and to have traders of both countries discuss trade development.
He added that during this visit the Lapis Lazuli transit route agreement might also be signed.
Berdimuhamedov also expressed interest in visiting the provinces of Afghanistan where TAPI gas pipeline passes through.
He also promised to increase electricity exports to western Herat province of Afghanistan.
The Turkmen President also announced that his country would build a mosque in Aqina and a school in Andkhoi district.
The two parties also stressed on continuing cooperation in the exchange of skills in the carpet indsutry and its marketing.
The Shanghai Cooperation Organization (SCO) is an intergovernmental international organization founded in Shanghai on 15 June 2001 by six countries: China, Russia, Kazakhstan, Kyrgyzstan, Tajikistan and Uzbekistan. Afghanistan, Pakistan, India, Iran and Mongolia are observers; while Turkey, Belarus and Sri Lanka serve as dialogue partners with the organization.
Afghanistan received observer status at the SCO in 2012 and formally asked to join the Organization as a full member in October of this year.
---
---
Related Articles
Afghan Central Bank Chief, Norullah Delawari, called on the senate for the immediate approval of the Anti-Money Laundering Law. This
Delegations from Afghanistan and Pakistan met in Dushanbe, Tajikistan capital city, on Thursday to reach conclusive decisions on the trilateral
Bamyan potato farmers would supply 50% of Afghanistan's demands in previous years; however, this year's production is estimated to meet