Price of gold goes up, food rates remain unchanged in Kabul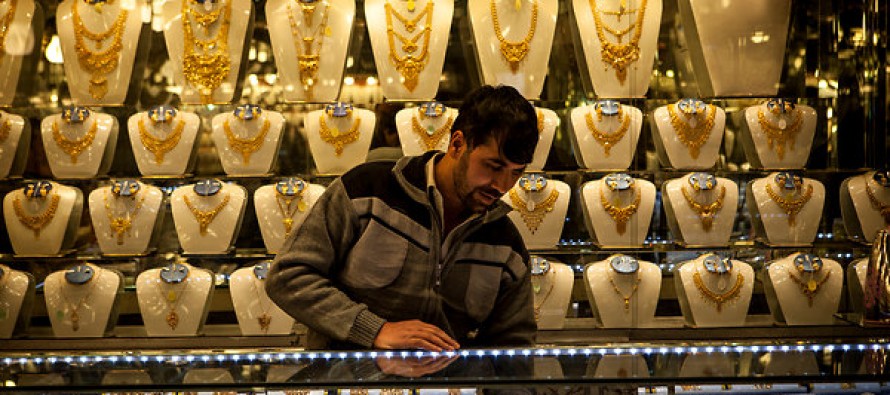 (Pajhwok Afghan News Weekly Price Report) The price of gold increased but foodstuff rates stayed unchanged in Kabul during the outgoing week, market sources said on Thursday.
Abdul Basir, a jeweler in the Lycée Maryam locality of Kabul, told Pajhwok Afghan News the rate of one gram of Arabian gold increased from 2,000 to 2,100 AFN.
The same amount of Iranian gold rose in price from 1,650 to 1,700 AFN, he said, linking the surge to the global market trend.
Fazlur Rahman, the food traders' union head, said food prices remained stable during the week. The whole sale price of a 50-kilogram bag of Pakistani flour was 1,300 AFN.
A 50-kg sack of sugar cost 1,500 AFN and a 24-kg rice bag 1,800 AFN. A five-liter Momin Ghee tin accounted for 380 AFN. Similarly, a kg of green tea was priced at 170 AFN and black tea at 210 AFN.
But Khan Ali, a retailer in Kart-i-Seh area, sold a 49-kilogram bag of flour for 1,370 AFN, a 50-kg sack of sugar for 1,700 AFN and a 24-kg rice bag for 2,000 AFN.
He sold a five-litre tin of cooking oil for 460 AFN, a kilogram of green tea for 200 AFN and black tea for 240 AFN.
Mohammad Sultan, a firewood merchant in Sar Sabzi Square, said wood prices remained stable. The price of 560 kilograms of peeled oak was 6,500 AFN, unpeeled oak at 6,000 AFN and cedar at 6,000  AFN.
Mohammad Sharif, a gas seller in Kolola Pushta neighborhood, said one kilogram of liquefied gas cost 50 AFN — same as last week's rate.
The Ministry of Commerce has fixed the price of per kilogram of gas at 48 AFN, but last week's rates ranged between 48 and 55 AFN.
The price of diesel also stayed stable, with one liter selling for 62 AFN and the same of petrol for 57 AFN, said Abdul Hadi, a filling station official in Wazirabad area.
Moneychanger Ahmad Shah said the buying rate of one US dollar was 57.10 AFN, while 1,000 Pakistani rupees accounted for 530 AFN. Last week's exchange value of the dollar stood at 57.05 AFN and 1,000 Pakistani rupees at 529 AFN.
---
---
Related Articles
Minister of Telecommunication and Information Technology, Mohammad Fahim Hashemi, stated that all internet service providers purchasing internet by the national
Thirteen young women are among the first to graduate from USAID Promote: Women in the Economy's (WIE) Forward Together Scholarship
The increasing prices of essential commodities has become intolerable among the Afghan people. The Lower House of the Parliament summoned