Prices of Bamyan potatoes decline due to imports from Pakistan and Iran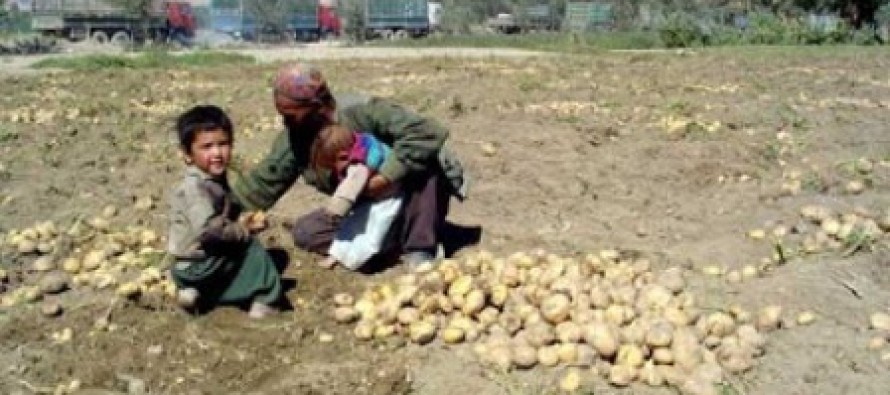 Farmers in Bamyan said potato imports from Iran and Pakistan to Afghan markets have resulted in decline of Bamyan potatoes.
"Despite the high yields of potatoes this year in Bamyan, we do not have good sales," said Rajab Ali, one of the farmers from the province.
Rajab Ali added that potato imports from Pakistan and Iran are sold at lower prices. Bamyan potatoes have lost their market; as a result the prices have dropped drastically.
Bamyan is one of the coolest regions of Afghanistan; therefore, many farmers choose to grow potatoes on their fields.
Potato is a famous crop of Bamyan and is known for its sweet taste.
Previously, Bamyan had their highest potatoe sales in Kabul, Mazar-e-Sharif, Kunduz, Helmand, Herat and Kandahar. This year, however, potatoes have not found a satisfactory market, which is causing concerns to the farmers.
"If the government does not prevent imports of potatoes from Pakistan and Iran, domestic farmers will suffer severely and may not be able to afford the expenses of their potato fields," said Jawad, potato trader in Bamyan.
According to Jawad, local traders faced a loss of about 600,000-700,000 AFN last year, due to government's failure in finding markets for Bamyan potatoes.
Another Bamyan farmer, Mohsen, said the government must assist in building cold storage rooms for their potato products.
"The government never provides us with any kind of support; neither during the time of seeding nor in time of harvest," said Mohsen.
Meanwhile, Director of Agriculture in Bamyan Eng. Tahir Atayee said despite the prices of potatoes this year have seen an increase of 20% from last year's, the prices are still very low.
"Unfortunately, the entrance of Pakistani and Iranian potatoes into Afghan markets have been harming Bamyan farmers," said Eng. Tahir Atayee.
---
---
Related Articles
Private investors, international donors and business organisations are keeping a vigilant eye on the reconstruction of war-torn Afghanistan, as president
The Afghanistan Chamber of Commerce and Industries (ACCI), the Association of Oil and Gas and the Oil and Gas Directorate
A new poll conducted by the Center for Strategic and Regional Studies (CSRS) indicates that distrust among Afghans over the