Prices of gas and firewood plunge in Kabul market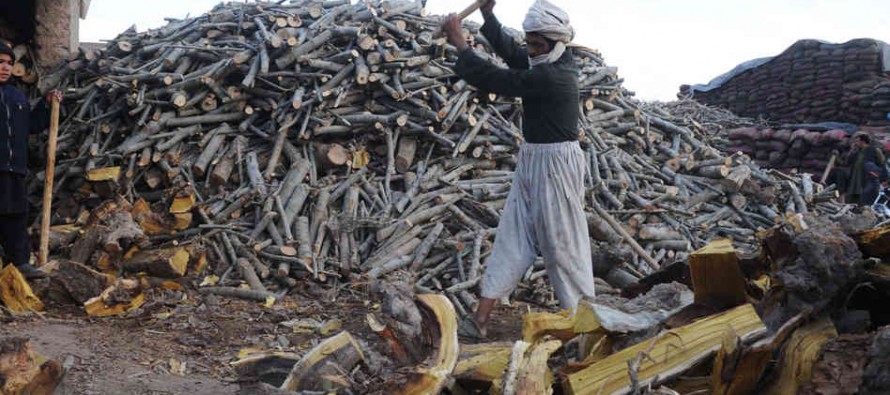 (Pajhwok Afghan News Weekly Price Report) Prices of fire wood and liquefied gas reduced, while that of other necessary items remained unchanged during the outgoing week in central Kabul province, retailers said Thursday.
A firewood stall owner in the Sarsabzee locality, Mohammad Sultan, said the prices of 560 kg of unpeeled oak was decreased from 7,300 AFN  to 6,500 AFN and the similar quantity of peeled oak from 6,500 AFN to 6,000 this week.
He told Pajhwok Afghan News the decrease in fireweed prices was linked with hot weather.
Mohammad Sharif, a gas dealer in Klola Poshta area, said the price of one kilogram gas fell from 53 AFN to 50 AFN. He added the prices were set by the Ministry of Commerce and Industries, prompting shopkeepers and importers to abide by the new prices.
But as past week, a liter of diesel cost 62 AFN and the same amount of petrol 57 AFN, a filling station in charge in Wazir Abad locality, Abdul Hadi said.
Food Traders' Union head, Fazlul Rahman, said rates of food items remained stable, with a 50-kg bag of Pakistani sugar selling for 1,500 AFN and the same amount and 24 kilogram bag of rice at the rate of 1,800 AFN.
Moreover, a five kilogram tin of Spin Ghar ghee cost 3,800 AFN, a kilo of an African black tea 210 AFN and an Indonesian green tea 170 AFN. A 50-kg bag of Pakistani flour edged down to 1,010 AFN from last week's 1,040 AFN, he added.
Prices of gold remain stable, Abdul Baseer, a jeweler in the Lecce-i-Maryam neighborhood, said as past week one gram of Arabian gold cost 2,000 AFN to 2,250 AFN and similar of Iranian variety 1,650 AFN.
Moneychanger Ahmad Shah said the buying rate of a US dollar was 57.05 AFN, while 1,000 Pakistani rupees accounted for 529 AFN. Last week's exchange value of the greenback stood at 56.60 AFN and 1,000 Pakistani rupees at 529 AFN.
---
---
Related Articles
The Ministry of Agriculture, Irrigation, and Livestock (MAIL) announced that dates production in Faraph province have increased by over 50%.
Afghanistan, Pakistan and Tajikistan agreed to finalize the draft for a transit trade agreement in three months at a meeting
Afghan truckers and traders have complained that they were still asked to pay illegal money under various pretexts at the