Project engineers and technical staff receive road maintenance training in Kunduz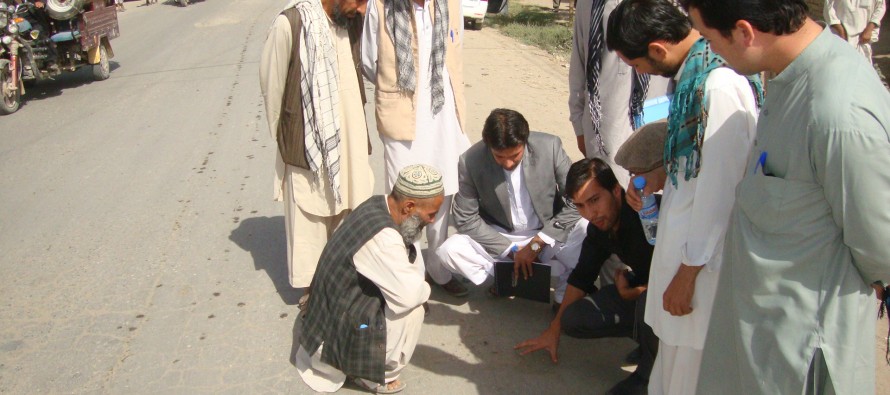 10 engineers and 13 technical staff from various line departments in Kunduz province successfully completed a training course in road and drainage maintenance. The aim of the training was to enable line departments to plan and manage repairs and maintenance of road infrastructure for the benefit of the population. Staff members of the Department of Public Works (DoPW), the Department of Rural Rehabilitation and Development (DRRD) and Kunduz Municipality took part in the training.
The road maintenance training was conducted at the Department of Rural Rehabilitation and Development and covered subjects such as routine maintenance, emergency road works, periodic maintenance, rehabilitation, monitoring, upgrading and reconstructing roads as well as managing the workforce for these activities. With the knowledge and skills they gained, the training participants will now be able to better manage and preserve public road infrastructure that serves the transportation needs of Kunduz' population.
The Afghan partners received technical support from the Regional Capacity Development Fund (RCDF). As part of the Afghan-German Development Cooperation strategy, the RCDF is implemented by Deutsche Gesellschaft für Internationale Zusammenarbeit (GIZ) GmbH and financed by the German Federal Ministry for Economic Cooperation and Development (BMZ).
The RCDF provides supports for its Afghan partners' development priorities both on a provincial and a district level in six of Afghanistan's Northern provinces. At the same time, the RCDF provides training and coaching programmes for civil servants. With its broad range of activities, the RCDF aims to increase Afghan ownership of the development process, strengthen Afghan state institutions on the sub-national level and promote transparency and inclusiveness.
---
---
Related Articles
Addressing a Nawroz ceremony, Governor Gul Agha Sherzai said up to 1500 uplift schemes have been executed at a cost
A series of development projects including horticulture and water supply projects would be implemented in Faryab province, said Ministry of
Local authorities of Daikundi province announced the establishment of the largest food storage in the province. The storage, costing 20