Provincial Governor's Office of Takhar gets additional administrative building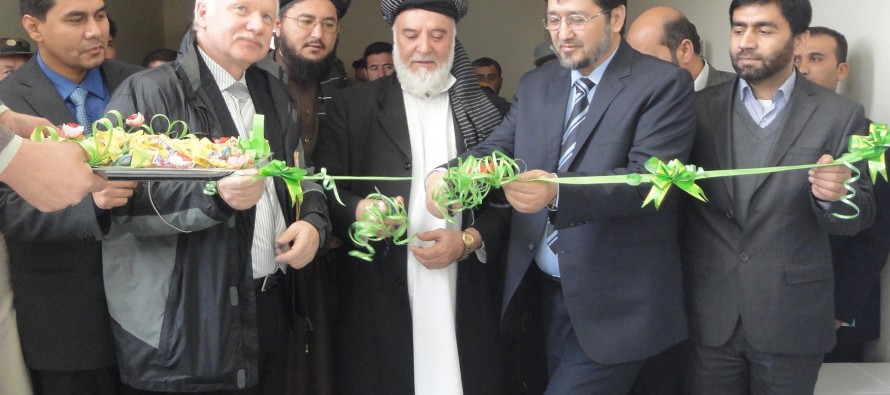 Takhar Provincial Governor's Office (PGO) formally opened a new additional administrative building in the capital Taloqan.
The new additional administrative building in Taloqan comes equipped with state-of-the-art facilities, promising improved services for the province's 1 million citizens
With more space and innovative technology, civil servants are now in a better position to do their work quickly and effectively, leading to improved relations between the communities and local government.
The costs of the construction amounted to approximately AFN 7.8 million, financed by the German Federal Ministry for Economic Cooperation and Development (BMZ).
The new administrative building is equipped with an office for the governor and further office space for staff, a conference hall, a garage for car parking, washrooms and a kitchen. As a follow-on project from a previous development scheme to provide information technology (laptops, printers, copiers, cameras and generator) and office fittings, the working environment and conditions are now greatly improved in the new offices.
The decision to construct the building was made in November 2010 by the Takhar Provincial Development Committee (PDC). The Takhar PGO was responsible for the implementation of the building project with the support of the Regional Capacity Development Fund (RCDF) Takhar, which is financed by the BMZ. The land for the new premises was donated by the Government of Takhar.
As part of the German Cooperation with Afghanistan, the RCDF is implemented by Deutsche Gesell- schaft für Internationale Zusammenarbeit (GIZ) GmbH. The RCDF is supporting the development priori- ties of the Afghan partners at provincial and district level in six Northern provinces of Afghanistan while at the same providing training and coaching programs for civil servants. With its broad range of activities, the RCDF aims to increase Afghan ownership of the development process, strengthen Afghan state institutions on sub-national level and promote transparency and inclusiveness.
---
---
Related Articles
A number of parliamentarians accused the president of leading the country toward an economic crisis by neglecting to sign the
Majority of residents in Parwan province are all set to hold a demonstration against the government for its failure to
Afghanistan's central bank, Da Afghanistan Bank (DAB), announces that the bidding process for sales of USD 35mn will begin on