A public library opened in Balkh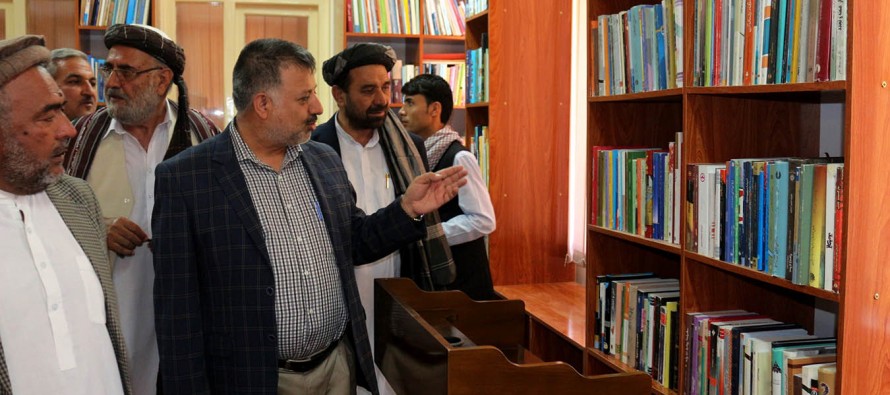 A newly built public library was inaugurated in Balkh, Mazar-e Sharif on Tuesday.
The opening ceremony was attended by employees of the Balkh District Governor's Office as well as local politicians and provincial council members.
The German Government funded the project at a total cost of AFN 7.5 million, implemented through the Regional Capacity Development program.
The Afghan-German Cooperation also provided training for employees of the library. Additionally, they handed over 1,000 books and library equipment. Together with 800 books already available, the library now offers a total of 1,800 books to all visitors.
This library not only improves access to information and education for students, it will also positively contribute to the level of literacy of Balkh's citizens. This library will further support the already achieved improvements of the educational system in the province. With the high number of students in Balkh, a high number of visitors are expected.
Before opening this library, citizens needed to travel to other cities in order to access the extensive range of reading and research material offered by libraries. Due to travel restrictions for many women, it was even more difficult for Afghan females to access distant research facilities.
As part of Germany's cooperation with Afghanistan, the Regional Capacity Development (RCD) program is financed by the German Federal Ministry for Economic Cooperation and Development (BMZ) and implemented by Deutsche Gesellschaft für Internationale Zusammenarbeit (GIZ) GmbH. In six provinces in northern Afghanistan, RCD supports its partners' development priorities in the provinces and districts, while at the same time providing training and coaching programs for civil servants. With its broad range of activities, the program aims at increasing Afghan ownership of the development process, strengthening state institutions and promoting transparency and inclusiveness.
---
---
Related Articles
Da Afghanistan Bank (DAB), Afghanistan's central bank, has put USD 30mn on sale on Tuesday. DAB requested qualified dealers and
The German government has announced that it will provide €50 million to support the trust fund program set up by
Afghan government officials gathered on Friday for the " Afghanistan after 2014 and beyond" meeting. The meeting touched on topics