Qatar interested in investing in Afghanistan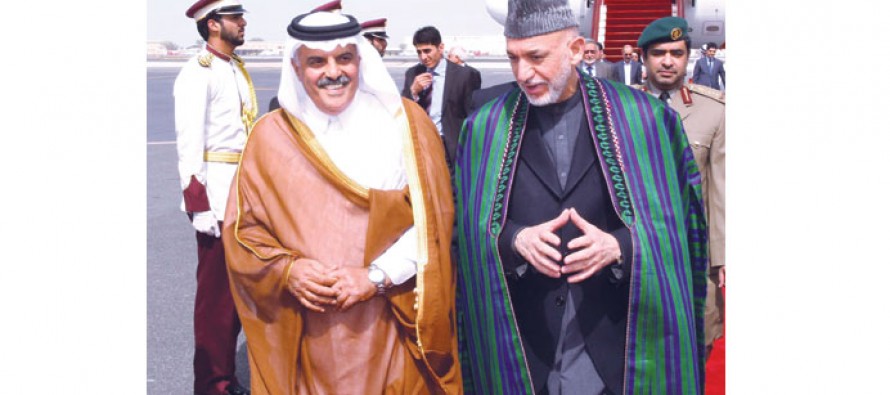 Led by Qatari Businessmen Association Chairman Sheikh Faisal Bin Qasim Althani, the Qatari delegation met with President Hamid Karzai to discuss investment opportunities in Afghanistan.
Present in the meeting were Finance Minister Hazrat Omar Zakhilwal, Foreign Minister Zalmai Rassoul and some Afghan businessmen.
The Qatari delegation expressed interest in investing in some of Afghanistan's key economic sectors: banking, housing, energy and technology, agriculture and health.
President Karzai had met with a group of investors in Qatar in March of this year and encouraged them to invest in Afghanistan as it works to secure stability before NATO-led combat forces withdraw next year.
Karzai had said that his country has tremendous business opportunities. Investment in any sector of the economy; be it is mining, quarrying, power generation, cement industry, housing, retail, banking, civil aviation and hospitality industry, all the sectors will give good returns. "Afghanistan is ready to welcome you with open arms and a happy heart. Investment in any sector will give good returns. Especially, investment in power generation and housing construction will see immediate returns."
---
---
Related Articles
With the implementation of Da Afghanistna Breshna Sherkat (DABS) project, Ghazni is granted with 5mega watts of thermal power. The
On the days of Mila Gul-e-Surkh in Mazar-e-Sharif, sales of Afghan products witness a drastic increase. Mila Gul-e Surkh, the
The Afghan Finance Minister Hazrat Omar Zakhilwal met with his Iranian counterpart Ali Tayeeb Nia to confer on expanding economic