Quality management training for small and medium-sized infrastructure projects in Badakhshan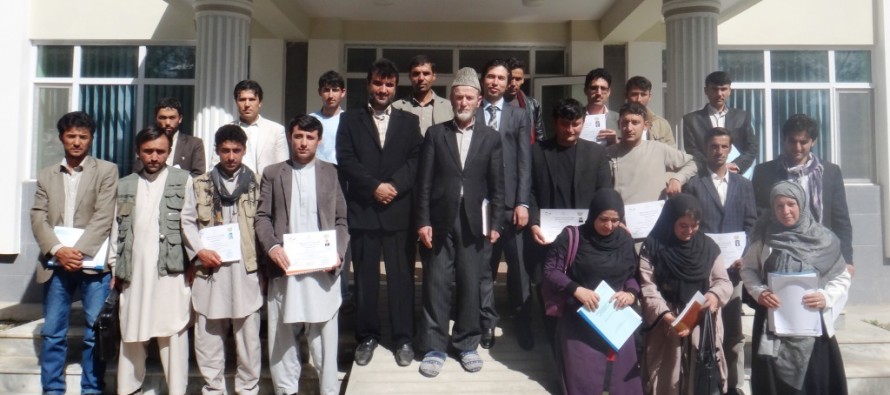 As part of an Afghan-German cooperation initiative, six days of training in construction quality management for Badakhshan line departments came to a close in Faizabad, the capital of Badakhshan on 27 April 2014.
A total of 24 participants took part from various departments in the province, including the Provincial Governor's Office (PGO), Zebak District, Raghistan District, Department of Public Works (DoPW), Department of Rural Rehabilitation and Development (DRRD), Depart-ment of Education (DoE), Department of Water Management (DoWM), Department of Urban Develop-ment (DoUD) and Faizabad Municipality.
They received training in quality management, quality control procedures, quality construction materials, quality management plans, quality project implementing.
Infrastructure projects, such as school buildings, basic health clinics, administrative buildings, irrigational canals, bridges and small roads projects, play a decisive role in helping to improve the social and economic development of communities. Implemented in various sectors, these sorts of projects meet the basic needs of the population and improve living conditions for the communities.
To make progress in infrastructure development, one of Badakhshan provincial government's priorities is to ensure its line department workers and project engineers are equipped with the right knowledge for quality control procedures, construction material quality controls, quality management plans and quality project implementing.
The main objectives of the training in Badakhshan were to help departments responsible for small to medium-sized infrastructure projects, implemented by the Afghanistan National Development budget or contributions from donors. With the knowledge they gained from the training, engineers responsible for infrastructure projects in administrative roles will be able to integrate quality into all aspects of infra-structure project planning, implementation and supervision. In turn, line departments will be able to manage the quality of the infrastructure the government provides.
The ceremony marking the close of the training was hosted by the Director for the Department of Econ-omy, Mr. Abdul Ghafor Ferogh with Afghan-German Cooperation representatives attending. The train-ing was requested and run by the Department of Economy in Badakhshan, supported by the Regional Capacity Development Fund (RCDF) and the Regional Infrastructure Development Fund (RIDF) and funding came from the German Federal Ministry for Economic Cooperation and Development (BMZ).
As part of the Afghan-German Cooperation strategy, the RCDF is implemented by Deutsche Gesellschaft für Internationale Zusammenarbeit (GIZ) GmbH. The RCDF provides supports for its Afghan partners' develop-ment priorities both on a provincial and a district level in six of Afghanistan's Northern provinces. At the same time, the RCDF provides training and coaching programs for civil servants. With its broad range of activities, the RCDF aims to increase Afghan ownership of the development process, strengthen Afghan state institutions on the sub-national level and promote transparency and inclusiveness.
---
---
Related Articles
Afghanistan  has made its first entry in the annual Index of Economic Freedom of The Heritage Foundation and is ranked
Afghanistan is on the cusp of strong economic growth due to a number of factors. A growing middle class has
Afghanistan's poultry industry has seen a boost with around $1 billion worth of investment made in this industry over the