Quality testing equipment and trainings provided to Afghan Ministry of Public Works engineers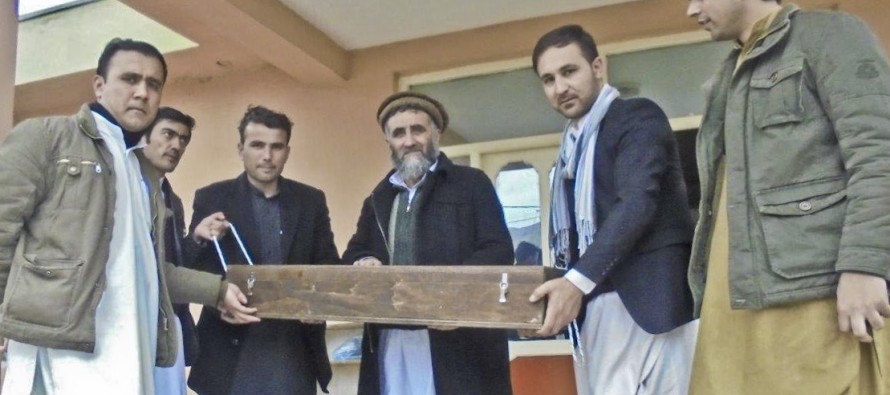 A full Dynamic Cone Penetrometer (DCP) set was provided to the Departments of Public Works in the northern provinces of Badakhshan, Baghlan, Balkh, Kunduz, Takhar, allowing the engineers to improve the quality of construction of roads and building foundations.
Provided by the German government a full, the DCP is a basic mechanical tool for surveying underground and sub-structures of roads and buildings to determine the strength of subgrade and base layers, testing if the material is well compacted to carry the expected loads.
Its use is crucial as construction operations and pavement performance are directly related to subgrade stability. Moreover, it is easy to transport, to maintain and inexpensive to operate.
The DCP delivery to the Public Works Department is the follow up to the training that was attended by more than 40 engineers from various line departments in all five provinces during December 2014. The training was focused on how to assemble the instrument, conduct a test, and determine the test frequency and location. In addition, extensive information was provided about data analysis, data correlation with soil design parameter and description on how construction operations are directly related to subgrade stability.
The DCP purchasing and shipping, as well as the trainings on DCP use and maintenance are part of a joint program by the Regional Capacity Development (RCD) program and the Regional Infra-structure Development Fund (RIDF), both financed by the German Federal Ministry for Economic Cooperation and Development (BMZ). As part of German cooperation with Afghanistan, the two regional programs are implemented in the provinces Badakhshan, Baghlan, Balkh, Kunduz, Takhar (RCDF/RIDF) and Samangan (RCDF). The RCD is implemented by the Deutsche Gesellschaft für Internationale Zusammenarbeit (GIZ) GmbH and the RIDF is financed by KfW Entwicklungsbank (German Development Bank). Both aim to improve the infrastructure and strengthen the capacities of local government structures in northern Afghanistan.
---
---
Related Articles
Four women graduated from the United States Agency for International Development's (USAID) Afghan Women Engineering Internship Program, becoming the fourth
The United Nations Economic and Social Commission and the European Union plan to undertake a major infrastructure project that involves
Afghan Ministry of Commerce & Industries (MoCI) have reported a 4% rise in Afghanistan's Qaraqul exports. With about 45,000 pieces