Raising legal awareness in schools in Balkh and Samangan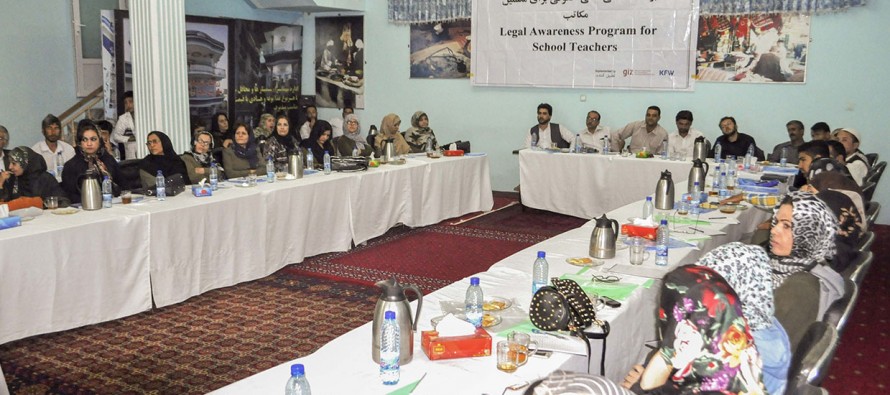 The project Promotion of the Rule of Law of the Afghan-German Cooperation launched a three-day training for 50 school teachers in Aybak, Samangan. The workshop focusses on citizens' and women's rights as well as judicial organizations in Afghanistan.
The training provides an opportunity for the participants to share their experiences and to discuss how to practice legal advisory on a daily basis. From 20th to 22nd September, a similar training took place in Mazar-e Sharif, Balkh province.
During the training in Mazar-e Sharif, La'al Mohammad, a teacher at Ghazi Amanullah Khan School, said: "Sometimes, our students share their family and personal problems with us to be solved, for example types of domestic violence." Teachers are often unsure on how to assist their students when they report on domestic violence or discrimination and are not able to provide advice, let alone a solution.
In order to be able to claim ones rights, people need to be aware of them. Therefore, it is important to provide information about fundamental rights quite early. If children learn about these and how to access them in school, this will benefit their families too.
Khaterah, a teacher in Daqiqi Balkhi School, said: "Now, I can provide more information about law to my students. I will allocate a part of my class to discuss violence against women. It does not make any difference whether the students are young or old. We need to institutionalize the idea of eliminating violence against women".
The participants welcomed the training and suggested that similar trainings should be conducted for religious scholars as well as elders in order to promote legal awareness among all Afghans. "The legal topics are very important to be shared with our students. From now on, I will allocate five minutes of every lecture to discuss the topics and outcomes of the training. Families do face problems and our students can share their legal knowledge with them. This way, we might contribute to a spiritually and physically sound future generation,"  La'al Mohammad added.
On behalf of the German Federal Ministry of Economic Cooperation and Development (BMZ), the Afghan-German Cooperation has been working together with the Afghan government to promote rule of law in Afghanistan. Since 2003, the project has been supporting the Ministry of Justice of Afghanistan in its efforts to ensure access to justice for all citizens. This is done through supporting better access to justice as well as improving the professional capacity of justice sector staff. At the same time, legal awareness of citizens is strengthened.
---
---
Related Articles
Unemployment in Afghanistan has gone up from 25% to 27%, according to the Ministry of Labor, Social Affairs, Martyrs and
Pakistan's Minister for Planning, Development and Reform has announced the launch of projects worth USD 500mn in Afghanistan. Minister Ahsan
Afghanistan's Aviation and Transport Ministry has assigned a committee to investigate the high prices of Pakistan International Airline's (PIA) tickets.