RECCA VII's first day focuses on role of women in economic development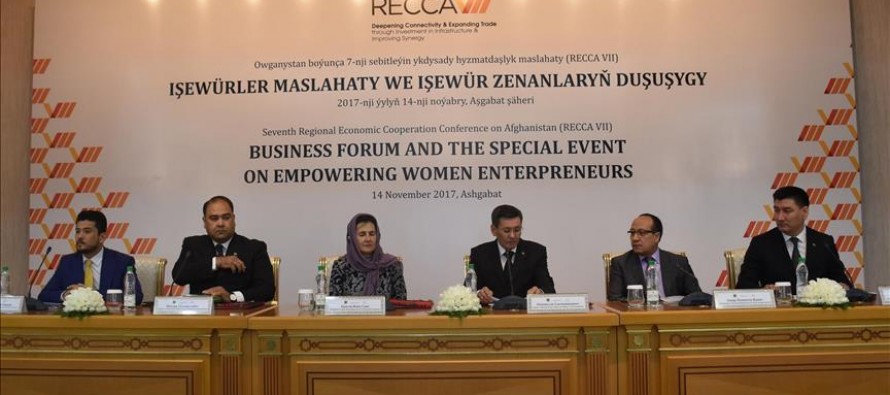 The 7th Regional Economic Cooperation Conference on Afghanistan, also known as RECCA VII, has kicked off in Asghabat, capital city of Turkmenistan.
Delegation from over 40 countries are participating to discuss economic cooperation and ways to rebuild Afghanistan as the country is suffering from years of ongoing conflict.
The first day of the conference focused on the role of women and their contribution to economic development.
Afghan Trade and Industry Minister Humayoon Rasaw said the Afghan government is making efforts to boost women's role in the economy and said gender equality at the workplace would help increase the gross domestic product.
"To further promote women's involvement in business, the High Economic Council approved the proposal for establishment of Afghan Women's Chamber of Commerce and Industries," Rasaw said.
Chamber of Commerce and Industry of Afghanistan General Director Atiqullah Nasrat: "We hope that the focus will help women-owned enterprises in the RECCA region to interact with each other and improve their access to regional and international markets, and to learn best practice in order to contribute job creation and economic growth in their economies."
Afghan First Lady Rula Ghani said women participation in the Afghan economy is slowly increasing.
She added Afghanistan aims to create a platform that would encourage and facilitate regional and inter-regional economic cooperation through the RECCA conference, which was launched in 2005.
"This may have sounded as an ambitious and almost impossible goal at a time when the region was reeling under so many local conflicts and divisions," Ghani said.
"But looking back at the shared history of all the countries involved in revisiting the golden age that spanned several hundred years from the 9th to 14th century, the idea of shared interests was not such a far-fetched one.
"Our history, our cultural traditions, our collective memory are all intertwined."
---
---
Related Articles
Officials from the Department of Rural Development and Rehabilitation in Herat informed of the opening of 10 public service projects
Officials at the Ministry of Communication have expressed their concern about the usage of unauthorized telecommunication devices in Afghanistan. Deputy
Baghlan's Provincial Governor and the Director of Lower Kunduz River Basin Agency (LKRBA) signed a contract for constructing a flood