Regional Economic Development Plan for Badakhshan province launched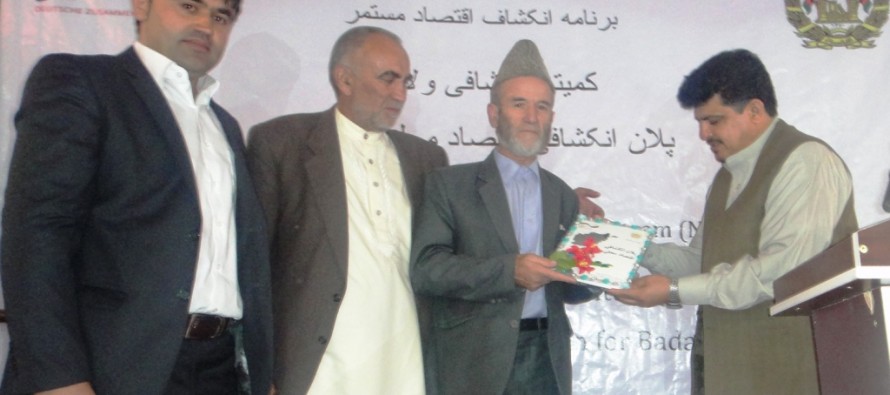 In order to facilitate economic growth and job creation in Badakhshan province, the Provincial Development Council (PDC) with support of German Development Cooperation launched a Regional Economic Development Plan, which mobilizes the local community for business development.
In the presence of the province Deputy Governor, Dr. Gul Muhammad Bidar, a Regional Economic Development Plan for Badakhshan province was launched on Thursday.
The Development Plan was drafted by a technical working group consisting of representatives from 27 public and private sector organizations from Badakhshan, such as the governor's office, provincial authorities and local business membership organizations.
The province of Badakhshan is perceived as a remote and mountainous area facing several challenges in its economic development, such as bad infrastructure, high unemployment and lack of investment. The development plan is a strategic concept to build-up a strong business base in the province.
The plan identifies economic sectors of priority, which are at the same time attractive to private investment and conducive to create jobs and income for the local population.
Economic potential is seen in the sectors of agriculture and livestock, mining, herbs and honey as well as tourism. Furthermore, measures are proposed on how to improve the investment conditions in the priority sectors. The technical working group could serve as an advisory board proposing joint actions by the public and private stakeholders, which need to be approved by the PDC. Finally, the plan comes up with a marketing plan to bring Badakhshan on the map of national and international private investors.
The stakeholders chose "Naturally Badakshan" as the slogan referring to the region's natural resources as a source for economic development.
During the event, the head of the Department of Economy, Mr. Abdul Ghafoor Froogh, presented the details of the plan and introduced measures on which the members of the technical working group already agreed on, such as an exhibition and an open day event of all business-related agencies in Badakhshan. In addition, the Deputy Governor of the province, Dr. Gul Muhammad Bidar, explained the value of the plan and how it can encourage the local community to foster joint activities to attract investment.
The development of the Regional Economic Development Plan is supported by the Deutsche Gesellschaft für Internationale Zusammenarbeit (GIZ) GmbH on behalf of the Federal Ministry for Economic Cooperation and Development (BMZ).
---
---
Related Articles
As many as 82 public service projects have been launched in Herat province by the Rural Rehabilitation and Development Department
(Pajhwok Afghan News Weekly Price Report) Prices of diesel and Iranian gold fell but that of Arabian variety gold soared during
The World Bank Group's Multilateral Investment Guarantee Agency (MIGA) has so far insured three major companies in Afghanistan in an