Renovation of Jumah Mosque in Herat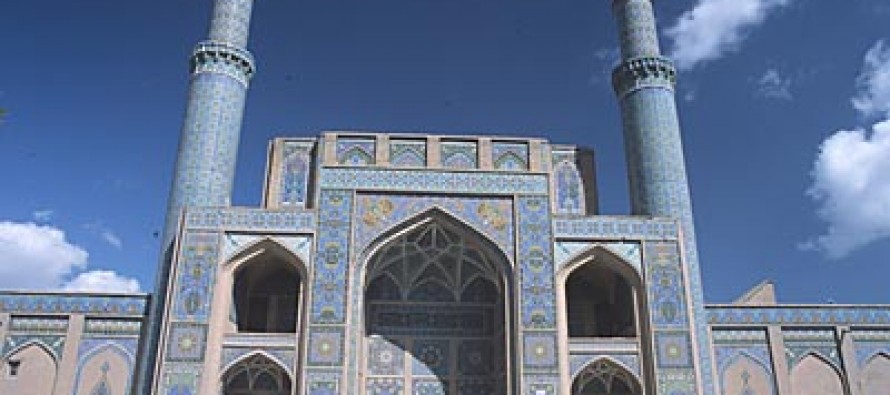 Afghan traders and industrialists have joined hands together to renovate the Friday Mosque of Herat also known as Jumah Mosque.
According to Herat's prayer leader and preacher, the mosque needed a new roof and glasswork.
The deputy chief of the renovation committee Wali Shah Bahra said the donations, duly registered by the committee, are sent to a bank account and spent transparently. He refused to name the members of the committee.
The Friday Mosque of Herat is a mosque in the city of Herat, in the Herat Province of north-western Afghanistan. It was built by the Timurids and extended by several rulers swapping hands down the centuries between the Timurids, Safavids, Mughals and the Uzbeks all supported the mosque before switching hands. Though many of the glazed tiles have been replaced during subsequent periods, the Friday Mosque in Herat was given its present form during the closing years of the fifteenth century. Apart from numerous small neighborhood mosques for daily prayer, most communities in the Islamic world have a larger mosque for Friday services with a sermon. This was not always the largest mosque in Herat; a much larger complex also built by the Timurids, the Mosque and Madressa of Gawharshad, was located to the north. Those architectural monuments were dynamited by officers of the British Indian Army under British supervision in 1885 so that it could not be used as a fortress if a Russian army tried to invade India.
The Masjid-i Jami of Herat, the city's first congregational mosque, was built on the site of two smaller Zorastrian Fire temples that were destroyed by earthquake and fire. A mosque was begun by Ghurid ruler Ghiyath al-Din Muhammad b. Sam (1162–1202) in 1200 (597 AH), and continued after his death by his brother and successor Shihab al-Din. This is confirmed both by an inscription on the eastern Ghurid portal uncovered in 1964 during a restoration, and by the sixteenth century Timurid historian Khwandamir in his Khulasat al-Akhbar.
---
---
Related Articles
A German-funded water supply project opened in the capital of western Herat on June 21, 2012. The project, benefitting nearly
Afghanistan and China signed cooperation agreements on security, reconstruction and education cooperation on Tuesday after the Chinese Vice President Li
Pajhwok Afghan News Price Report: Prices of flour and rice increased while rates of firewood, sugar and ghee declined during