Repairing of new roads in Feyzabad, Badakhshan benefit 1.2mn residents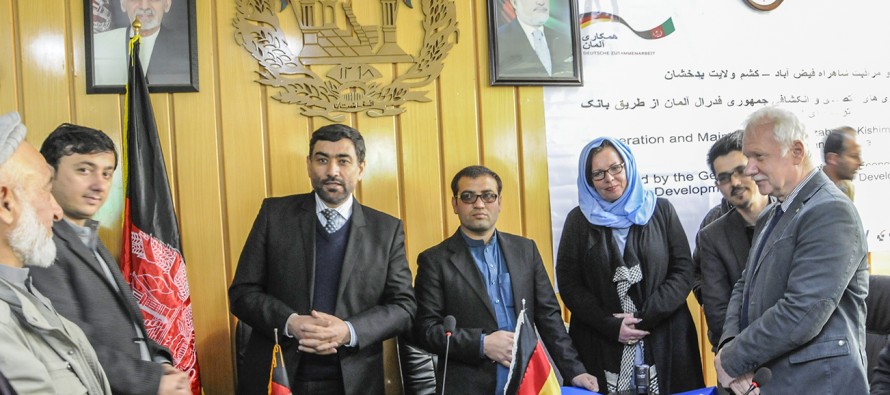 Feyzabad's Provincial Governor signed the contract for the operation and maintenance of the 103-kilometre long Feyzabad – Kishim Main Road in Badakhshan.
The contractor will repair rockslide and water damages that were caused by Kokcha River and upgrade the construction to prevent future damages, including reinforced retaining and flood protection walls along the river bank.
The German funded Regional Infrastructure Development Fund (RIDF) is financing the project with approximately 81 million AFN.
Infrastructure is key to economic development. Therefore, the construction activity will strengthen trade in Badakhshan and help boost its economy. About 1.2 million people will directly benefit from this project.
Speaking at the ceremony, Badakhshan's Provincial Governor, Faisal Begzad, said: "The Afghan-German Cooperation is very active in Afghanistan. We are thankful for their support, especially when it comes to such an important and vital project as this one in Badakhshan province".
"Safe roads are essential to Afghanistan's economic development. Therefore, this activity is an important investment in Badakhshan's sustainable development", the German Development Commissioner for Badakhshan and Takhar, Dr Frank Pohl, added.
The constructions will not only ease traveling. Coaching and on-the-job training provided by RIDF will help engineers at the Department of Public Works developing skills to manage, support and execute similar and future projects independently.
The Director of the Department of Public Works of Badakhshan, Eng. Sayed Abdul Rauf Obaidy, highlighted that the operation and the maintenance of Feyzabad – Kishim Main Road was a priority not only for the Department of Public Works, but for everyone in Badakhshan.
Feyzabad – Kishim road is part of the 180 kilometer long Feyzabad – Taloqan Main Road. This road connects Afghanistan's northern provinces to the country's capital Kabul. It is also part of the so called "Silk Road" that carries traffic to and from Afghanistan's neighbouring countries Tajikistan, Uzbekistan, Turkmenistan and Iran.
The RIDF is commissioned by the German Federal Ministry for Economic Cooperation and Development (BMZ), funded through KfW Development Bank, and implemented by Joint Venture Grontmij-GOPA-INTEGRATION, in partnership with the Afghan Ministries of Finance, Economy, Energy and Water, Rural Rehabilitation and Development, Education, Public Works and various provincial institutions. RIDF allows financial resource allocation by the respective Provincial Development Committees on provincial level, realising proposals of their provincial line departments.
---
---
Related Articles
Over 65 government officials from 10 Afghan provinces attended a two-day multi-stakeholder Sustainable Development Goals (SDGs) on Agriculture and Natural
Ahead of a vital donor conference in Tokyo this week, Oxfam is calling on governments represented at the summit to
51 civil engineers from 10 line departments in Kunduz successfully completed training in use of AutoCAD software, the first course